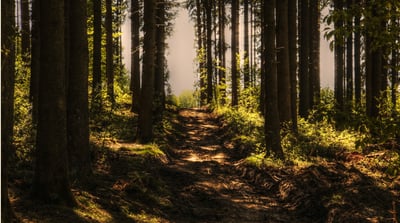 The most effective channels may vary between SaaS companies but one thing is true for all.
You'll need a primary channel of choice to publish your content.
It's up to you to decide what that will be and it may take some testing to see what gets the best results for you.
Some factors that will affect your distribution choices are what types of content you're creating (like video, text, or images) and the very important factor of where your audience is.
The best content won't be useful to your audience if you're publishing it on a channel that they don't look at.
Here's a look at the best marketing channels for SaaS companies and things to consider when choosing the right one for you:
1. Your blog
It's highly recommended that you publish directly on your own blog for a couple of reasons.
First, when you host your own content and get subscribers through your blog with an email address, you own every part of that – the content and the subscriber data.
You can still promote your blog over other channels and direct people to your blog, but capturing that prospect information is key to building your contact list and owning the audience instead of only have followers.
With other channels, it's not yours.
If you rely exclusively on Instagram to reach your audience and suddenly Instagram decides to no longer show your posts to your audience or it shuts down (not likely, but we're making a point here and you never know...) then how would you reach them?
You just lost complete and total access.
Unless you have these people in your database, then it's no problem.
In fact, the people who have willingly given you their email addresses are more qualified leads than someone who follows you on social media but hasn't expressed any interest in staying connected otherwise.
Another benefit of publishing blog content is the boost it will give you with SEO and website traffic in general.
Not only will it boost your page rankings, you'll be driving traffic from other channels over to your website.
2. Instagram & Snapchat
Instagram and Snapchat continue to grow rapidly and the users are highly engaged, generally visiting the platform multiple times a day.
This is because these are mobile apps and for better or worse, people spend hours a day on their mobile devices.
In the U.S., it's projected that the average adult will spend 3 hours and 23 minutes per day with mobile media and it's often done in short spurts at a time making short and sweet interactions.
All these eyes on mobile are a great opportunity to get in front of new prospects all day long.
Instagram is still very image-heavy but many use videos and Instagram stories are becoming wildly popular.
The expiration quality of both Instagram Stories and Snaps encourage frequent visits as a result of FOMO (that's Fear of Missing Out, for those not up to speed with the social lexicon).
If you're wondering how your blog posts translate here, one way is to post a relevant image or video clip along with written excerpts that are engaging on their own but that also entice viewers to click over to your website or landing page for more.
Many people use Instagram like a micro-blog, posting an image and writing an elaborate caption like a mini blog post, complete with calls-to-action.
Aside from promoting your blog, these are perfect channels to show another side of your company and highlight the people behind the SaaS and put faces to your brand with behind-the-scenes posts along with posts offering helpful content.
3. Facebook
Despite Facebook's recent reputation of being for the older crowd, let's clarify that while the younger set may not use it as much as other platforms for social interactions, it's stronger than ever as a marketing channel.
Facebook has some of the most specific ad targeting available, high-converting ads, and Facebook Live to keep up with the live video trend and giving you a native video option.
There are so many ways to present your content on Facebook now that you can create thorough campaigns around any long-form content you have, events, blog promotion, and offers to sign up for a free trial of your SaaS.
Facebook Groups have evolved over the past few years and morphed into an amazing marketing tool.
In the past, Facebook groups were like secret societies, you wanted to be accepted into a group but once inside you'd think, "What are we supposed to do in here?"
Now, savvy business owners use groups as a way to create an interactive space for their audience, their tribe if you will.
Page admins can post content and host live tutorials for example but one of the best things is that members continue the conversation even when you're not there.
You want engagement from your audience and this is one of the best places to make that happen.
4. LinkedIn
Of all the social media networks, LinkedIn is still the title-holder for the most effective channel in the B2B arena.
It's a social network by media standards, but it's professional in nature regarding its intended use and the content shared.
This is good news especially for a SaaS company that has business solutions for the millions of users on LinkedIn.
Having premium, relevant content for these professionals will gain organic exposure by way of sharing.
If you're a real heavy-hitter in your industry you may score an invitation to become a LinkedIn influencer which gives you instant credibility and a practically guaranteed following.
If you're not quite to heavy-hitter status yet, you can still get access to LinkedIn's publishing platform to publish and distribute articles and other content you're creating.
Groups on LinkedIn are organized by topic and industry so while there is a lot of noise to get through, if you're authentic with your approach and truly offer value, you'll quickly become an expert voice in your industry.
The possibilities for building an enterprise network are wide in scope and bring countless new opportunities.
5. Twitter
The most fast-paced channel of all is Twitter.
To make the most of the jam-packed Twitter feed, you have to be present more frequently and have something valuable to say.
It's one of the places where it's recommended to post more than once a day.
As with any other channel, you'll have to test timing and tone for your company along with types of posts, but always be genuine, don't overthink it or your tweets will sound contrived.
Tweets move down the feed very quickly so to stay visible and have an impact on your audience you need to do a handful of things:
Post consistently and more frequently than on other channel
Use industry-relevant hashtags so users will find you
Create a unique hashtag for your company
Use hashtags to seek out conversations you can chime in on
Tweet your original content and see what gets shared
Be consistent with your tone
6. YouTube
As the search engine that's the second largest in the world (second only to Google) creating search-friendly video content will give you a boost in exposure and SEO.
YouTube allows you to create your own channels which you can populate with a branded video series, how-tos, interviews, company video, behind the scenes, and other relevant video content.
You can include videos about your product and how it works, but this isn't the place to do a sales pitch.
The content should be a resource to solve some kind of problem for prospects.
As with any other channel, the most success will come from having a real strategy.
YouTube channels are great for sharing your video content, but it needs to be part of a larger plan.
The content of the video should align with your other content and needs to be promoted and distributed outside of YouTube.
The search engine benefits of the platform are an opportunity but not a stand-alone plan so you still need to put planning and efforts into your channel.
There are many more marketing channels to consider and it may take some testing to find the right ones for you.
Each of the social channels have paid advertising with a variety of options depending on your campaign goal.
Pinterest drives boat loads of traffic and could be an excellent place to pin your company resources if your target audience matches that viewer demographic.
There will always be marketing channels that pop up and fade away––and you might have great success with some of them––but your core strategy should include channels that we've mentioned above.
There are already abundant variables so start with a stable foundation.
Regardless of what you use always be genuine, never salesy.