A website serves as a gateway to your brand, providing potential clients with all the information they need about your products, services, and values. But visual appeal is only half the battle- a truly productive website is one that is functional, user-friendly, and optimized for conversions. Often, Saas companies have particular requirements that lead to a more frequent necessity to switch things up.
When redesigning a SaaS website, the process involves updating the design and functionality of your pages to improve the experience of your users, display any new features, and generally ensure that both aesthetically and efficiently, the website is at its peak performance.
But how do you know when it's time to redesign your website? Well, there are a few key indicators that can signal the need for a redesign. These can be anything from:
Declining website traffic
Poor user engagement
Outdated design or functionality
A change in business goals or target audience
There is much to consider once you choose to explore the benefits of having an updated SaaS website, as well as common signs that it's time for a redesign and tips that ensure a successful process along the way. Whether you're looking to improve your users' experience, increase conversions, or keep up with the latest design trends, a redesign of your SaaS website can help you achieve your goals and stay ahead of the competition.
Importance of a Strong SaaS Website
A well-designed website will benefit your SaaS business and the clients you work with, which will ultimately benefit your business even more.
Company Benefits
One of the largest benefits of a savvy SaaS web design is higher conversion rates. When every aspect of a website comes together correctly, more site visitors become actual customers.
This happens for a few reasons. First, your optimized redesigned website will draw more individuals from search results. Another reason is that your website's design elements will be user-friendly to encourage customer acquisition. More leads, and subsequently more sales, will be generated from a website that successfully showcases product features, shares customer stories, and incorporates a catchy and easy-to-navigate design.
A strong website generates leads, demonstrates relevance as a SaaS business, and creates a positive user experience.
Customer Benefits
A website design that is functional and intuitive will benefit your customer base. Whether they only have to visit your site once for the initial purchase or frequently to access the service they subscribe to, they will be grateful for a straightforward website experience with a smart structure.
Redesign work can also lead to better product details, company goals, product shots, and helpful information about your SaaS product that will create a stronger relationship with existing customers and encourage visitors to become new customers.
Reasons to do a SaaS Website Redesign
It might seem hard to figure out when you need a website redesign, but it is pretty straightforward. There are a handful of elements a website should have and multiple scenarios in which a redesign would be beneficial. In all of these situations, the cost of a website redesign will be returned in more qualified leads, higher conversion rates, increased sales, and more customers.
So when does your SaaS website need a redesign?
Customer Feedback
If you are getting frequent feedback from current or potential clients that their website experience was poor, then it is definitely time to redesign your website. Common complaints might include:
A lack of information, or too much information, on your website
A difficult-to-navigate setup
A website that isn't mobile-compatible
Information is hard to locate your contact information
The website has frequent crashes
More often than not, your SaaS product will likely go through frequent updates. This is all the more reason to conduct updates to your site, as it's important that its content is current and reflects the newest features, UI, and more in as up-to-date a manner as possible.
It is impossible to make everyone happy, and you will always have individuals who think there are things that can be improved, so you don't need to worry about doing an entire website overhaul over a few negative comments. On the other hand, if you're getting a lot of complaints or feedback about the same thing, take the time to look into the problem and make the necessary changes.
Metrics Show Low Conversion Rate
What qualifies as a good conversion rate varies depending on who you ask. This can also change depending on if you are a B2B or B2C SaaS company. In general, conversion rates estimated in the 2-5% range are deemed good, and a conversion rate above 7-8% is considered great.
Conversion rates are not the only important piece of website traffic data, but they are an industry litmus test that usually correlates with overall sales and customer retention rates. If conversion rates are low, it is time to redesign your website to encourage visitors to complete the task you want.
Your Home Page Has Too Much Information or is Cluttered
Information must be easily accessible on your website. In many instances, successful companies are not mincing words. They just know where to put them so as not to overwhelm current and potential customers. A landing page or homepage with every important piece of information you can think to say about your product, brand identity, company history, and more is going to be daunting.
If the first page visitors see is full of words or unorganized links, photos, and paragraphs, they will likely leave and find a similar product on a less cluttered website. Organize your website into intuitive sub-pages that are easy to locate from the home or landing page. This is how you can create a better website without sacrificing the knowledge you want to share.
Sharing a lot of information on your website isn't a bad thing. An information portal, company blog, or knowledge center regarding your SaaS product are great places to house the expertise or new content you want to share with the online world.

Security Concerns
If there are any known or suspected security concerns on your website, then it's certain that you need a new website redesign. The risk of private data (whether yours or your customers') being potentially leaked is not a risk that you should be willing to take.
A way to address security concerns in your website redesign is by considering a switch in your CMS. Though some may be cheaper to utilize, risk and reward, in this sense, is a difficult balance. If you want to conduct a CMS migration, consider utilizing migration services by well-known, trustworthy CMS companies like HubSpot.
If you're interested in migrating to HubSpot, contact us to learn more about our white glove approach to website migrations.
Create a Stronger Online Presence
Online sales are continually increasing and are the top source of revenue for most SaaS companies. Online search results, click-throughs from marketing emails, and advertising account for many online sales. It is important that your online presence is strong and that your website is showing up in search engine results.
The largest demographic in decision-making positions is millennials. Overall, millennials cite company websites and search engine results as the top two influencers when they are making a purchasing decision for work. Most decision-makers in business rely on top search engine results, which makes the proper utilization of SEO an essential need during your redesign process.
Your Website Doesn't Connect With Your Target Audience
If you find through website data, customer feedback, or another method that your target audience is not being drawn to or engaging on your website, you might need to redesign with framing these in mind.
When building any website, it's always beneficial to have your target audience at the forefront of your mind while developing. You need to ask yourself not only what the needs and desires of this target audience are but also their pain points and weaknesses. When redesigning, ask yourself what problems your target audience often finds themselves struggling with. Then, ask yourself how your website features and, subsequently, your SaaS product can be transformed into the solution to those problems.
Your Website Isn't Mobile-Friendly
It is simply not an option to have a website that isn't mobile-friendly anymore. Even if a customer doesn't make a final purchase on their device, it is highly likely that they will have looked at your website from a mobile device at some point in their research process.
B2C SaaS sites will see more customers making purchases through their phones than a B2B Saas website will, but it doesn't mean that only B2C companies need to worry about this. With increased work-from-home options and employees working more on the go, B2B SaaS businesses will have potential clients viewing websites from phones and tablets at some point in the sales process.
If your website is not mobile-friendly, you will lose customers to your competitors with mobile-friendly websites or apps. Not to mention, Google tends to favor websites that have the best user experience. This includes the pages with better mobile UX, meaning that a better mobile experience is equivalent to better search engine rankings.
It Has Been Three to Five Years
In general, the overall successful time frame for a new site design is every three to five years. This is an easy box to leave unchecked if everything seems to be going well, but a redesign every half decade, at a minimum, will benefit your SaaS website.
Elements to Include in a Website Redesign
If you have decided it is time for a SaaS website redesign, there are important elements to include. You might already incorporate some of these features on your own site currently, which will make the process less stressful but likely still necessary if you are missing key elements.
Less Information Upfront
As mentioned earlier in the article, information is not a bad thing. In fact, most users appreciate education, testimonials, evidence of social proof, and much more on a website. Don't get over-excited and have all of this information on your homepage, though.
Separate pages with well-written FAQs, an education database, contact information, product features, and user services are valuable. Your homepage should have a condensed version of what you want your visitors to know, with highly visible links to the areas where you store more detailed information.
The structure of your site should be one of your top concerns when creating a new SaaS web design. Giving users a navigable website that isn't scant on information can be difficult, but figuring it out will be worth the headache.
The Right Colors
Your website's coloring instantly conveys your company's mood and brand. Without realizing it, your users are likely inferring things about your company based on the website design inspiration and colors you have employed.
Select colors that convey the appropriate feeling for your service to visitors. Blue is often associated with feelings of peace, calm, and security. Red is associated with strength, courage, or passion. If you don't already know what the focus of your product is, take some time to figure out what feelings you want your target audience to feel. Then select colors that convey that while subsequently highlighting your features.
Additionally, contrasting colors will catch a viewer's eye and make it easier to read the content on your website. The ADA, or the Americans with Disabilities Act, guidelines are set into place in order to make a site easy for users with conditions that limit their ability to utilize a website to its fullest extent. Some of these guidelines include:
Using colors that are friendly to those with partial color-blindness
Having audio options for those who are visually impaired
Allowing your site to be easily accessed on any number of devices
When redesigning your website, take some time to ensure you're following these ADA guidelines. Not only will it expand your number of potential visitors, but it also does a lot of social good in its inclusivity.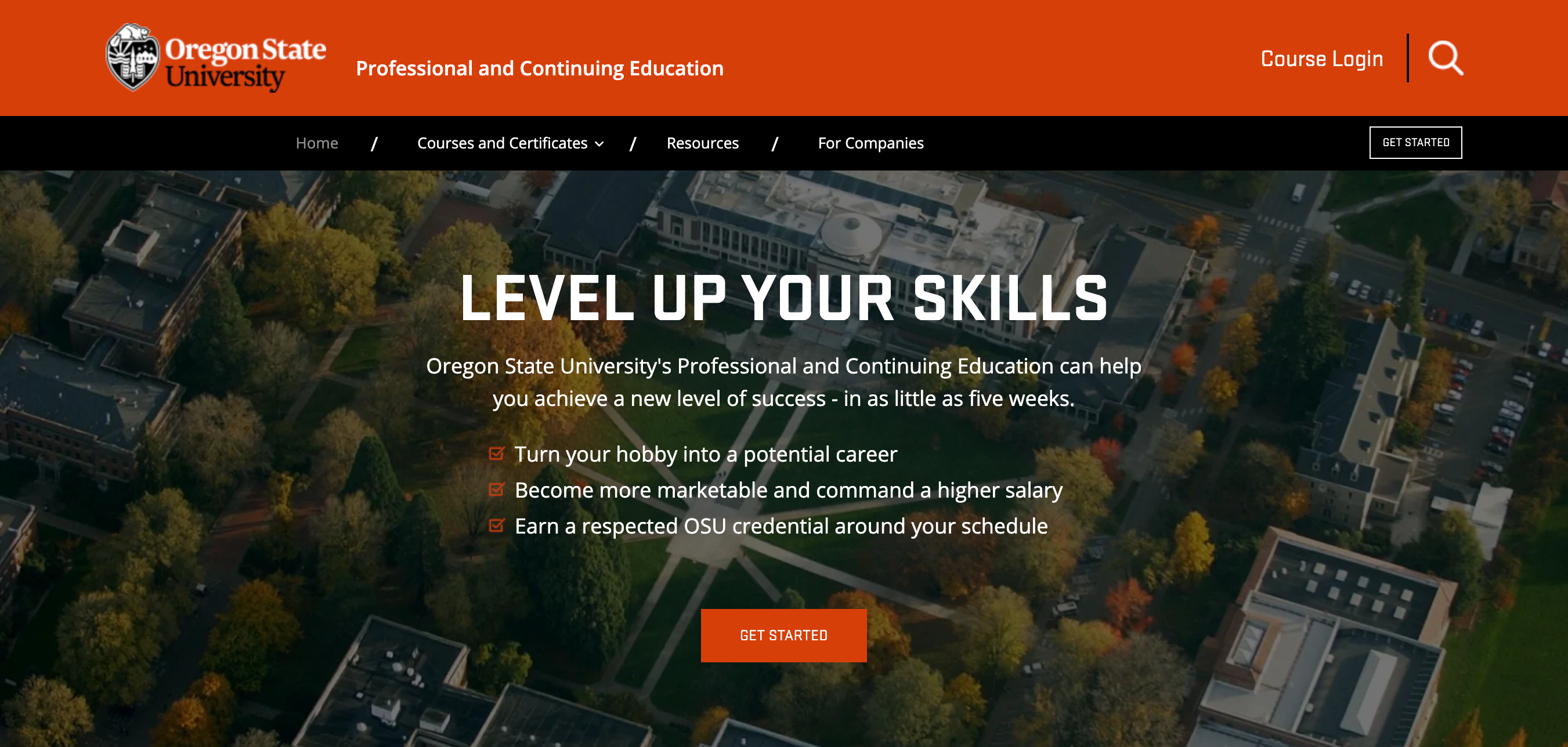 Mobile-Friendly
If you have not done this already, making sure your website is mobile-friendly is imperative when revamping your SaaS website design. Your website needs to be easy to maneuver on a mobile device, whether you have an app or not. While an app is helpful, not all viewers will take the time to download one, so it is important to make sure your website functions well in a mobile browser as well.
While your SaaS product might not be tied to mobile devices, it isn't good marketing to be a software business with a mobile site that doesn't perform well on phones or tablets.
Well-Placed CTA button
Decide what your call to action is and then have a prominent and unmissable button to hit at the opportune moment. Not only should your CTA button be visible, but it should also be in a place that makes sense. Regardless of your call to action, have the button in an obvious spot, like the top right of your homepage or directly after the tagline of your landing page, so that visitors can spot it immediately.
A CTA encourages visitors to take an action that you want them to. Some examples are simple phrases like "sign up," "buy now," "learn more," and "download now."
White Space
White space is simply the space in between content on your website, and it can also be referred to as negative space or blank space. Case studies show that viewers respond well to websites that have white space. It helps the important elements of your website pop, and white space makes the site less cluttered.
Social Proof
Demonstrating social proof can be as easy as displaying the logos of the companies who use your product on your homepage. This is simple, doesn't add clutter, and sends a clear message: people like us and find value in what we do. You can choose to include a few of your customer testimonials in conjunction with your social proof, but it isn't required.
Other forms of social proof that can be added to your site are awards that you've won or case studies demonstrating your company's capabilities. Showing off some of your well-known clients is an easy way to demonstrate your relevance and prove your competency.
Client Reviews
Good reviews can instantly make a user feel more confident in the software you are selling. A strong SaaS website design will include a few outstanding customer reviews on the homepage to help instill confidence immediately. If you have well-known customers, sharing a positive testimonial on your home or landing pages is even more valuable.
Instructional Videos or Images
Not only will videos and images help break up any text you have, but they also provide another avenue for visitors to gather information. While some visitors prefer videos to copy, others will find them necessary to understand your product. Videos, images, and even animated gifs can be more accessible to those with a different first language or visitors with disorders that make reading comprehension more difficult than aural comprehension.

Who You Are
You can include a lengthier introduction to your business, leadership, and products on a separate page, but your homepage should include the vital parts of your brand. Your value proposition is an easy way to show who you are in a short and concise way. It won't overwhelm your homepage and can quickly help visitors connect with your image.
Many factors go into a SaaS website redesign. It can be hard to visualize what direction your business site needs to move in. If you are a visual person, you can view some of the best SaaS websites on the web currently. You will notice most or all of these elements on their websites.
Where to Start with a SaaS Website Redesign
The best SaaS website designs are tied to successful companies benefiting from their web page layout. Investing time into a redesign comes with higher conversion rates, more subscriptions, and higher sales from a broader customer base.
Using skilled professionals with knowledge of SaaS website design and testing is important when working on a redesign. It might seem expensive at first, but professionals in this area are worth the extra cost. You will save time, have fewer glitches, and benefit from their knowledgeable support.
Web Canopy Studio offers expertise in web design and other marketing tools that will help you create an all-encompassing sales machine from your website and outbound contact efforts. For all you need in SaaS website redesign and increased conversion, let's talk today!