If you have been following Web Canopy Studio for a while, you certainly know how much we love video content.
Ever since we doubled down on video content, we have seen engagement, SEO, passive revenue, and lead generation skyrocket for both us and our clients.
In fact, on a recent video shoot for one of our favorite clients in Dayton, Ohio, we began brainstorming some awesome quick-win video strategies.
We were there to film two highly produced culture and lifestyle videos for their website, but we quickly decided to make the most of our journey and film some additional marketing content.


That's when we thought of these 3 great ideas:

1 - Sales Videos: Quick, engaging videos of the sales team to share with their perspective clients

2 - Educational Blog Videos: Well researched video content that doubles as a blog post to help your SEO and brand dominance.

3 - Video Case Studies: Short videos that explain how you helped solve your client's problems.
Creating Sales Videos That Build a Relationship
The first and easiest way to add video to your business is through recorded sales videos.
The goal of these videos are to provide value to your perspective clients while reaching out and letting them attach your friendly face to your brand's image.
To do this, just set up your camera or phone and start recording. In the video make sure you're not being 'sales-y', your goal should be; starting the relationship and offering up your service and knowledge.
We don't want to make this an opportunity to pitch your product. This is simply a way to build a relationship with your target buyer.
... and It works!
Here is exactly how we use it!
1. Film your video.
2. When a new lead comes into your CRM create trigger that sends an introduction email. In this email we like to include a .gif of the video to get more people to engage with the email: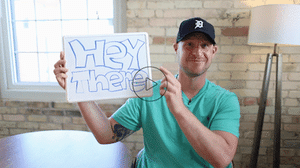 3. Make sure your .gif (a still image works fine too) links to a page where you have your video embedded.
4. On your video page, add a calendar. Our video encourages our new leads to book a time with Sam to talk through some no-pressure marketing ideas.
5. Follow up with people who engage with the video! You have just started a great relationship with a perspective buyer! Keep the sequence going with some more valuable content that they might find useful.
If you would like to take a closer look at the page where we keep Sam's video, check it out HERE.


Start Producing the content that people are Already searching for
This strategy takes a little bit more work, but we promise it's worth the time and effort.
You likely have a good idea of what blogs and pages are ranking well for you on google. If not, we recommend using a software like SEMrush. This is a quick way to find out what keywords you're already ranking for.
In the past, we have found the most value in editing existing blogs and optimizing them for keywords that are already within reach.
For example, if you have a blog that ranks on page 2 for a keyword like "growth hacks", you can find out more supporting keywords around "growth hacks" to strengthen that page.
The next step is to use these supporting keywords to create videos that answer questions around each of these search phrases.
Adding these videos and keywords will help you get from page 2 or 3 on google, to eventually ranking on page 1.
This strategy take's a lot of trial and error, but when done right we have seen organic traffic increase by 400 percent!
To take a look at this process a little closer, check out our podcasting guide! This free guide shows you how to turn video and audio content into great blog posts.
Showcase the problems you solve with engaging video content
Our final video strategy might be one of our favorites, in fact, it almost seems like a no-brainer!
To set the idea behind these videos, try to think about your buying process for most consumer electronics.
If you're anything like me, you likely indulge in countless YouTube reviews to confirm that you're buying the best of the best.
So, working in the B2B realm, how do you get your buyers excited about buying your service in the same way that you get excited looking at product review videos?
Here's our solution!
The idea of making a case study is certainly not a new one. Yet, I don't see the the use of video case studies nearly as much as should.
Certainly a testimonial video is close, but I don't believe you get to tell an exciting story through a testimonial. Rather, use your testimonial to enhance the case study video!
These videos could be as simple as setting up a camera and talking about how you were able to solve a client's problem.
Try to pick a unique situation, where you were really able to go above and beyond.
Remember that content like this is usually consumed during the consideration stage of your buyer's cycle. So, don't be afraid to really dive into your accomplishments.
I would recommend creating 4-6 of these videos and keeping them all under a "case studies" section of your website.
For more great ideas, listen to the podcast!