Thanks for watching! Here are the links mentioned in the video:
Hey everyone it's July 19th, 2019. I'm John, from Web Canopy Studio and we're giving you a quick rundown of what's going on in our world, this summer.
Hubspot news

Image from Hubspot
First off, big news coming out of HubSpot this week. HubSpot JUST announced they are including FREE EMAIL for all users of their free CRM.
This is huge because one of the downsides of the free CRM, although probably the best one out there today, is that it still required you to use a number of other tools to accomplish some simple marketing tasks.
Not only that, but you had to usually import and export people to different software like Mailchimp if you were using the free CRM to keep things up to date.
One of the reasons HubSpot was created in the first place was to eliminate the need for logging into a million different softwares just to do a few simple tasks.
This is something they've been doing extremely well in the paid versions of their product, and it just quite hasn't trickled down, until now.
Now free CRM users are able to send to a limited* number of emails each and every month, giving you data and tracking on contacts directly in your own HubSpot portal.
No more exports, no more unnecessary software. Use the free versions until you're ready to step up your game into the paid features. Extremely cool feature, and an exciting upgrade, nonetheless.
Under the canopy - the podcast
Here at Web Canopy Studio, we've been having a blast the last few months recording our new podcast called "Under The Canopy." Last summer we did a video series by the same name where we followed our staff around and tracked what life was like in our office.
Now, we're stepping it up into a regular podcast where we feature different members from our team and ask them real-world scenarios about lead generation ideas, web design and conversions, and all things inbound related.
We've had some fantastic episodes you won't want to miss for amazing tips and strategies you can implement on your own today.
New from web canopy studio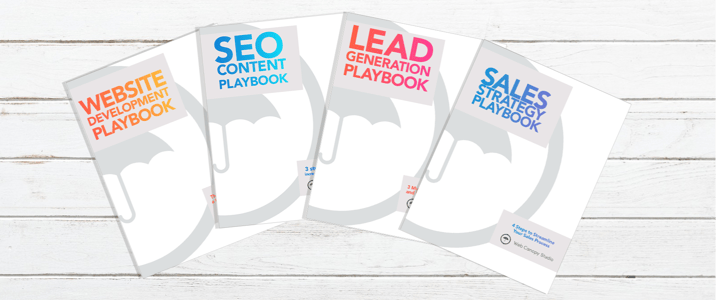 Lastly, you KNOW we love giving away some freebies whenever we can, like HubSpot templates, workflow templates, marketing guides, and more.
Today, we have something that I'm really excited about to share with you.
Last winter we put together some free playbooks for some of our clients and contacts, and we thought it would be a fun idea to package them up into a 4-pack bundle to give away completely free on our website.
These include the Website Development playbook, which goes over the precise outline we use for mapping out every conversion-focused website we build in our office.
The sales strategy playbook, which lays out a strategy for prioritizing leads, automating the marketing to sales handoff, and how to position your company.
The Lead Generation playbook, which gives you the 3 must-have tools for finding and landing the right clients, and how to effectively convert them on your website.
And the SEO Content playbook, which outlines how to use topic clusters the right way to show up in more relevant search results for the right kind of audiences.
Please stay tuned to hear more from us this summer as we've got some action-packed things we're releasing, including a new series of high-impact webinars, online workshops, free tutorials and courses, and our first ever printed Magazine publication. You won't want to miss out.
That about does it for this edition of the Web Canopy Rundown! Thanks for checking in, and don't forget to check out the resources on this page. Cheers!