Fair warning, my dear friends: This is a longer blog post. The reason? We are explaining how we've taken a series of sales tools insideHubSpot CRM and turned it into a support team powerhouse, driving our template and website support into profits we have never seen before. That being said... enjoy :)
A Different Take On Sales Tools
Sales enablement is so easy to think of as a solution simply for closing deals and informing the sales team of potential clients to keep in close contact. However, we think of sales enablement as something completely different - especially when discussing the tools inside HubSpot, like Sales Pro and the CRM.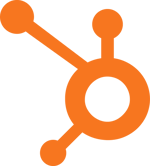 It has been a goal of Web Canopy Studio to continuously push the limits of what we do inside the HubSpot platform, and seek new uses for various tools. One of those uses is how we've assembled the sales side of our HubSpot portal to help our support team track tickets and progress for every contact who needs help from us.
We are quite active in the HubSpot Marketplace, offering free templates and paid templates alike to the HubSpot family of users. We receive roughly a little over 500 template transactions every single month from the HubSpot Marketplace. Oftentimes, people will have support questions or requests to add, change, or remove various features from templates.
The Problem We Faced
Our issue was that the support requests were coming in at large intervals once we started gaining traction. We literally had no way to track the requests that were coming in, because they were either just form responses or general emails. We had no formal approach to our process, and we could not see what was happening.
Sometimes our CEO would get the request for help; sometimes our developers would. Heck, even our marketers who sent out a marketing email would get a response asking for help with a specific template. The real kicker here - and why we decided it was time to look for another solution - was that we were getting a fair amount of up-sells from our templates into custom development work. We had no way to keep track of any of this. So let's recap:
Issues With Tracking
Overwhelming number of support requests
Multiple recipients of different requests/no designated path for support
No way of tracking where the actual ticket was in the funnel (Were they responded to? Is their problem solved? Do they need custom dev work? Who followed up with them?)
No way to tell if contact has asked more than one question other than personal memory
Thousands of dollars in up-sold contracts with no funnel tracking (How much was sold in April? May? Q4? By whom?)
Repeat questions were happening but not sure how frequently (repeats = change in documentation or template needed)
No real way to track which templates had the most requests
These were the issues that were bugging us the most. Since we have turned support requests into new revenue (about $50,000 in 2016 thus far), we knew it was important for us to formalize this approach. Of course, there are tons of software options to choose from for this, like Zendesk. However, we didn't want to pay for any other 3rd parties, and we didn't want to take the time to learn a new software.
What We Did To Fix It
We started asking ourselves, "why pay thousands of dollars for another software? Can we 'hack' our way through it with our current solutions inside HubSpot?" And that's exactly what we set out to do.
We decided to tackle the CRM as our tool of choice, because we knew how robust the features were. It essentially had the core functionality of what we were looking for - a pipeline we could easily move tickets (deals) through, keeping track of every note and conversation, and easily monitoring whether or not we were up-selling into additional services.
Here's how our system works.
The Form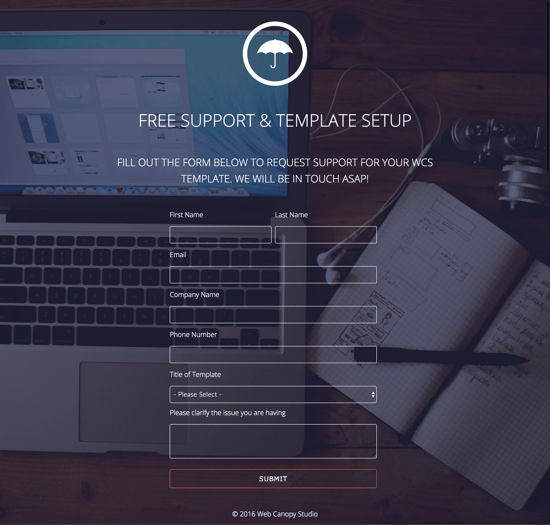 It all starts with sending a follow-up email when someone downloads a template. Regardless who you are, you will receive an email giving you a link to documentation and a link to the support request landing page on our site. On the support request form, you insert your name, email, phone, and company, and select the template you are using from a dropdown. You would also type the message of the issue you are experiencing. From there you would simply submit the form.
...And that's when the real magic starts to happen.
The Follow-Up
What happens after that form is submitted? We had quite a lot of questions internally to figure out what was crucial to solve without throwing tons of billable hours into processing. We also wanted to be mindful of getting an actual response time as low as possible.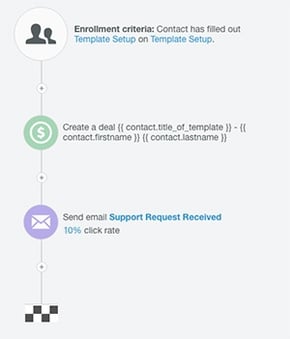 The follow up has a 3-part process that we were able to completely automate by combining different HubSpot tools.
Once that form is filled out, a workflow is triggered. A new deal is created inside the "support pipeline." The deal is placed in the category called "Request Received."
Next, that deal is assigned to one of our support reps and they immediatly receive an email notifying them of a new "ticket" being created. This allows them to reach out to the client as soon as possible.
An email is also sent to the client to confirm that their ticket has been received, and directs them to some helpful links for additional resources.
The Process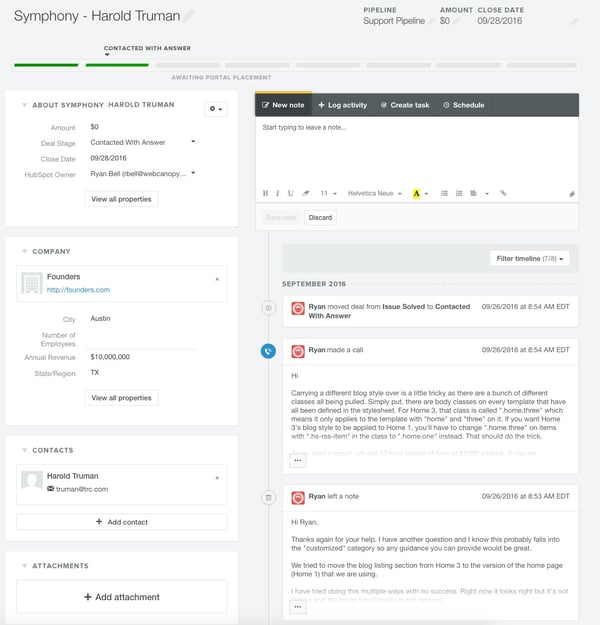 Next, our support team uses Sales Pro to connect with the client who is experiencing trouble. We can email them directly inside the CRM if we choose, or we can schedule a call or screen share if necessary.
We track all notes internally for each support item we receive, as well as the client's response. Each deal has an extensive log of correspondence.
Why is that helpful? Let's say support rep A is on vacation and has been working with an ongoing case. Now support rep B can easily get caught up in a matter of minutes and take over the case right away. The client loses no sleep.
And yes... The names were changed in the screenshots to protect the identities of our clients. So, we just chose Presidents and notable historical figures. Why not, right? Here's the deal details of the one and only Harold Truman, who apparently has been struggling with getting Symphony to cooperate :)
The Deal Stages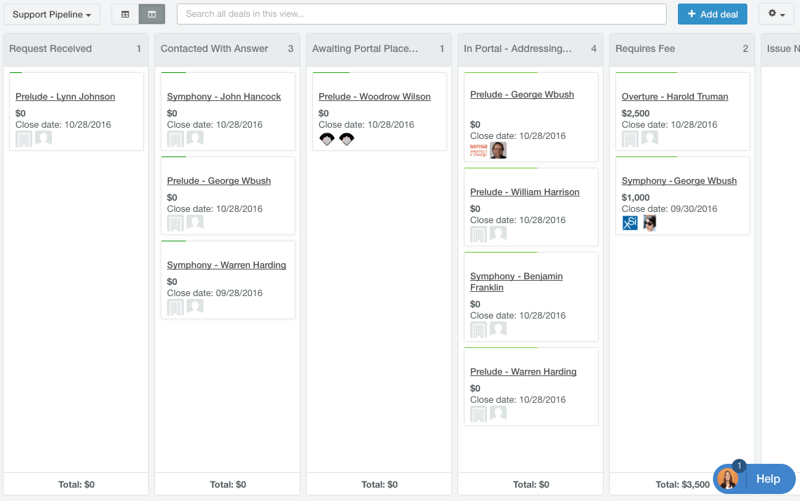 Our goal is to be a great resource for our clients and be as helpful as possible - however, we have to be mindful of being able to up-sell when the time is right. Whether we are up-selling to a different service or just additional development work; it's the job of our support team to make sure if the opportunity is there they strike while the iron is hot.
We categorize the deal stages as follows:
Request received
Contacted with answer
Awaiting portal placement (if we have to get in and see what the problem is behind the scenes)
In portal, addressing the problem
Requires fee, requested from client and awaiting response
Solution not clear, researching
Issue solved (closed lost)
Up-sold for additional services (closed won, deal at specific dollar amount)
Reporting, And Other Goodies
Not only have we created an entirely new use for the CRM, but we did it through the incorporation of several other HubSpot tools, like forms, workflows, landing pages, lists, and emails. To take it a step further, we wanted to solve yet another problem. How do we analyze this pipeline? It's quite simple, actually. The Reports Add-On.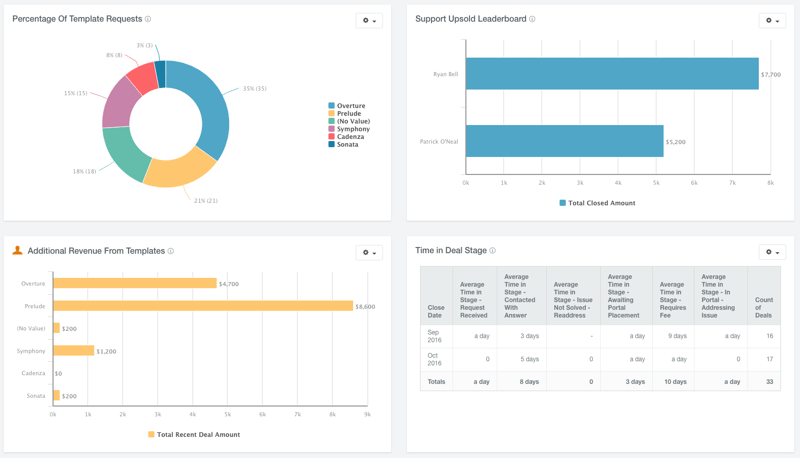 We took the deals pipeline and the other raw data we collected from the marketing side of HubSpot, and started piecing together a dashboard that helped us see a beautiful snapshot of our support team.
We can now analyze our process down to the smallest details to help us improve our strategy. We can see:
What stage tickets spend the longest amount of time in
What templates have the most tickets
How much additional revenue we've gained from support sales at any given time, month over month, etc.
Which support rep is struggling, selling the most, etc.
What percentage of tickets are up-sold, not solved, etc.
and virtually any other report we'd like to know
The Results
Right out of the gate, we experienced something amazing. We were able to go from not knowing our average response time, to a day-time average of 15 minutes. Just kind of going with the flow of responding to support requests as they came in vs. knowing exactly when they come in and who should be notified has been critical for our team.
We've been able to track that about 15% of the support requests that come through end up purchasing something from us. What a great place to start! Next we have to learn and train our team to start increasing that number over time.