Online sales have been increasing rapidly after the COVID-19 pandemic. Due to the shutdown, many people turned to buying their necessities online instead of making their purchases at an actual store. This caused online sales to skyrocket, and customers have been exposed to a more simple and more beneficial way to shop: an online store.
B2B e-commerce is different from when you shop online as a consumer directly to a business. B2B in B2B e-commerce stands for business-to-business and refers to online transactions that happen between one business and another. The online transactions happen through an e-commerce portal or platform between wholesalers and retailers or between manufacturers and wholesalers. Additionally, the sales processes between them can all occur conveniently from their phones.
According to Globe News Wire, the B2B e-commerce business is worth almost 8 trillion US dollars and is expected to grow over 18% through 2026. This is because there are many benefits to running a B2B e-commerce store and facilitating online purchases. Running a successful online store, though, requires e-commerce software that can help business owners have the best sales processes that they possibly can. One of the ways that they do this is by having e-commerce software that allows them complete access to an e-commerce portal. This is because the B2B e-commerce portal is an integral part of the ordering process and maintains communication between customers and sellers. Keep reading to learn more about the benefits of acquiring and using a B2B e-commerce portal.
What is a B2B e-commerce Portal?
Having a business that is run online entirely allows for an online directory for suppliers. In this instance, an e-commerce portal is available, which allows suppliers to meet demand immediately, eliminating the need to wait for the product to become available. Everyone is aware of the availability of products and the amount that is needed. This entire B2B e-commerce process is not possible without an e-commerce portal. That is because portals facilitate the interaction between a customer and businesses.
What can customers access on the e-commerce Portal?
There are many key features that can be accessed within an e-commerce platform to enhance the current business model that a company and the sales reps are currently using. Having a strong foundation and platform enhances sales processes and all the features that are available make automation of the sales process incredibly beneficial. Let's explore some of the features that can be accessed on the e-commerce portal for buyers.
Personalized Customer Experience
One of those features is that an e-commerce platform or portal would provide a personalized customer experience. This is done by assisting buyers to find products easily with customized navigation and searches. Customized navigation and search bars enable the customer to find exactly what they are looking for without difficulties. This makes their purchasing decisions much easier because buyers spend less time looking through product pages that are useless to them, and more time browsing product pages that have been customized for them. A customized experience is sure to make customers' buying experience a better one.
Flexible Payment Options
Customer satisfaction is increased because the sales team is able to educate customers on flexible payment options. This is due to the fact that the e-commerce platform allows for different payment options and or manual processes for their invoices depending on what existing customers would be more comfortable with. When buyers are looking to place an order, they will have access to anything else that affects their overall price, such as different shipping rates and whether or not they are getting wholesale pricing on their order. This is also important because buyers make better purchasing decisions when they are fully informed of the sale they are about to make. Furthermore, buyers like to feel like they have all of the purchasing power and when their decision-making process is one that is informed, they will be satisfied with their buying experience.
Order History
Customers are able to easily access their previous orders and with just a few clicks reorder their favorite products. Having access to order history is beneficial for buyers and makes their purchases run more smoothly. On top of that, order history pages allow buyers to see the status of their order and have access to details such as the shipping date and expected delivery date of their products. This is a convenience that improves customer satisfaction drastically. Before access to their orders, each individual order had to be placed as if it was the first order that had ever been placed. What that means is that not only would they have to scroll through product pages until they find the product that they want, but they would also have to enter all of their individual information, such as shipping address and vendor order number. With an e-commerce platform and portal, customers can save time by making the purchasing process much less time-consuming, increasing customer satisfaction.
Easily Access Customer Information
Buyers are increasingly satisfied when they realize that they can have multiple shipping addresses on their accounts. This feature is particularly beneficial to businesses that have different locations. It makes their buying experience a much more pleasant one when they can easily choose what location they will be shipping their product to next without having to input and change the address manually each time. Buyers have high expectations of the businesses they will purchase from so providing them with different ways to make their processes easier is sure to satisfy the customer.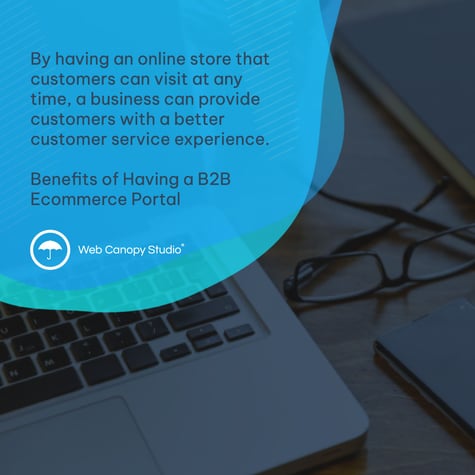 What can employees access on the e-commerce Portal?
Sales reps and account managers attain information in a much easier manner when businesses run all of their sales processes through an e-commerce platform or portal. They can find all the tools they need to benefit the business all in one place. Let's explore how the sales team, account managers, and business owners use an e-commerce platform or portal to encourage more sales.
Reduce Operational Costs
When using an e-commerce platform or portal, businesses have the benefit of automating all of the sales processes that would otherwise be completed manually. For example, some businesses have people assigned to help new customers with processing their orders or making sure that the orders are placed correctly. This may entail having to do some research in regard to checking inventory before determining whether the order could be approved. By maintaining all of this information under one portal, sales reps can easily find the information they need to make the process go smoothly. In addition, by spending less time doing things manually, sales reps and other employees can spend their time focusing on other areas to help increase sales.
Access Purchase Orders
This is beneficial because it allows employees of your business to see what orders are pending and what the current inventory looks like all in one place. Again, this process is automated, making it very simple to attain this information when it is needed.
View Current and New Customers
Sales representatives can also have access to customer information and change it easily to reflect any changes that need to be made to customer accounts. Rather than having to manually look for customer files, employees can easily look up any existing customers and make any changes to that file that are needed. For new customers, it is easy to create a new electronic customer file that can easily be edited in the future if needed.
Get Paid Easily
Because of the flexibility that is offered to buyers through a B2B portal, businesses may get paid much faster than before. Previously, businesses would issue an invoice to their buyers manually. The customer would then have to process that invoice through their accounting system to get paper checks issued so that they could pay their pending invoices. This process can be pretty time-consuming and with a B2B e-commerce platform or portal, customers are offered flexible payment options that will not only get businesses paid faster but no longer need to have paper checks issued.
Be Available At All Times
With a B2BB e-commerce platform or portal, businesses are available for their buyers at any time. Traditionally, customers would only be able to make an order during business hours, when the business was open but now, buyers have the freedom to place orders whenever they want. This puts the purchasing power back on the buyers, who are more likely to make more sales from your business if they have the freedom to make the order whenever they want.
Decrease Human Error
Through automation, employees and businesses don't have to worry about technical details anymore. For example, there are more possibilities for errors when manually entering things like shipping costs or price lists. Automating these simple items is one of the key features to decreasing human error. A B2B e-commerce platform can easily allow you to automatically enter prices on invoices from price lists and also automatically enter shipping costs.
What Reports Can Be Accessed?
With an e-commerce platform or portal, businesses can have important insight into data that can help improve their overall sales. Having this data at your fingerprints is a huge game changer when compared to the way data was obtained manually previously. Everything that you need to better understand your business can now be found all in one place. Read on to discover what reports can be accessed through an e-commerce platform.
Marketing
Running marketing campaigns through your e-commerce platform allows you to track the performance of those marketing pages. For example, you may run a campaign for certain products. You can choose to do this through an email where you include the certain products that you want for your campaign. When that email is sent through your e-commerce platform or portal, it allows you to track exactly what leads that email generated. Were there clicks on the email or was it not even opened? This is all information that can be viewed in a report format to better plan your marketing campaigns for success.
The traffic of your Website
The traffic on your website is important because it means how many buyers are visiting your website. The report that you get from the B2B e-commerce platform or portal helps you understand what that traffic is and how to encourage more of it. For example, you can focus on search engine optimization to create content that will make your website more likely to appear on the search engine results page. This would also make it easier for browsers to see your page and become potential buyers.
Sales Reports
Sales reports are easily accessible in a B2B e-commerce platform or portal. Everything from sales and costs to inventories is found within one system which makes the data incredibly accurate. You may run sales reports to understand the pricing of your products and understand if the current price makes sense or if you should make certain changes within your business.
Customer Behavior
By keeping track of what customers are doing with the emails in your marketing campaigns or on your website, you will be more likely to understand customer behavior. This is important because buyers expect the sales process to go a certain way and by understanding what they are wanting, you can meet their needs and hopefully make more sales. In addition, it lets you identify the customer type of the people that are potential customers.
How does an e-commerce portal work?
The first thing that needs to happen for a portal to work is that your business store-front will need to be connected to an e-commerce platform. This makes it possible to attain live feedback and data from your storefront. The platform in turn, will have all of the data in regard to purchases, price lists, sales, inventory, and costs. When orders are placed by buyers, the information gets sent to the platform and then automatically modifies the inventory as needed. Once the order ships, the shipping data will also be found on the portal and available for both the sales team of the business and the customer to see at any given moment. What makes the portal beautiful is that data is always in real-time and can be seen by the customers or easily communicated to them.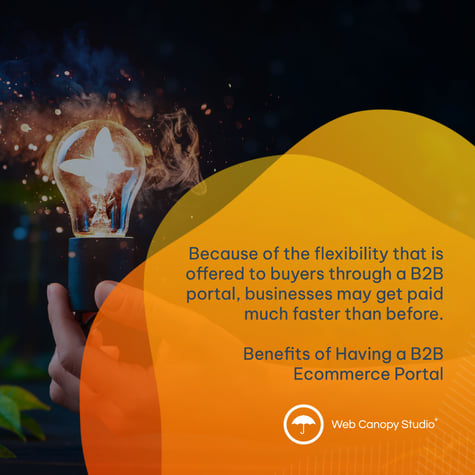 What benefits are there for a business?
One of the many benefits of having your business on a commerce platform is that it automates processes for you and your customers. As mentioned above, this opens up the possibility for increased cost savings due to employees spending less time manually completing tasks. Aside from the benefits already reviewed above, we have gathered the top benefits that a business can gain from having a commerce platform.
Automated Emails for Individual Customers
Customers like to receive personalized emails and having an e-commerce platform allows you to do just that. Send out massive marketing campaign emails that are both automated but customized to customers in hopes of creating a relationship that will encourage them to come back to your business and make another sale.
Real-Time Data
All of the data is consolidated into the e-commerce software, making it easier to run reports. This also makes it easier for a business to track orders for their customers and provide their customers with the latest updates in regard to their orders.
Customer Service
By having an online store that customers can go to at any time, a business is able to provide its customers with a better customer service experience. Rather than having the customers wait until someone is available to get back to them with an answer to a question, a business can make its website available for answering questions at any time.
Final Thoughts
Surely, there are success stories from businesses that have used e-commerce portals and saw an increase in their sales and customer satisfaction. With all of the features that such a platform has to offer for both a customer and a seller, it is safe to say that anyone who is in the e-commerce market should make the switch over to an e-commerce platform. Take your business to the next level today by making that switch and start benefiting from the many features that are provided.