B2B (business to business) e-commerce is the online sale of goods or services between two or more businesses. This is generally done through an online platform that works to improve efficiency and business processes.
According to a 2022 U.S. B2B e-commerce Report by Digital Commerce 360, online B2B sales, login portals and marketplaces increased by 17.8% (from $1.39 trillion to $1.63 trillion) in 2021, growing 1.7 times faster than all U.S. manufacturing and distributor sales combined.
With the many benefits of a B2B e-commerce platform, it's no surprise that it's here to stay. One thriving company in the B2B e-commerce space is HubSpot Payments. They have improved the process of sales between companies through their Quote to Cash automation processes.
Here are 10 ways B2B e-commerce can improve your company, using HubSpot Payments as a primary example.
Scalability
One of the greatest benefits of B2B e-commerce is the ability to scale your company to meet market demands. This allows you to easily grow your business by immediately matching your customer needs as they arise, opening new sales channels between businesses. and even reach out to new market segments. It gives the opportunity for companies to continue to grow without an explosion of costs in the contract, sales and payment processes.
For example, HubSpot payments can be scaled to meet the needs of any company conducting business online. They are able to use their e-commerce platform to scale their service for larger and smaller companies all while using the same software. This allows them to be utilized in different spaces, drastically increasing the number of potential customers.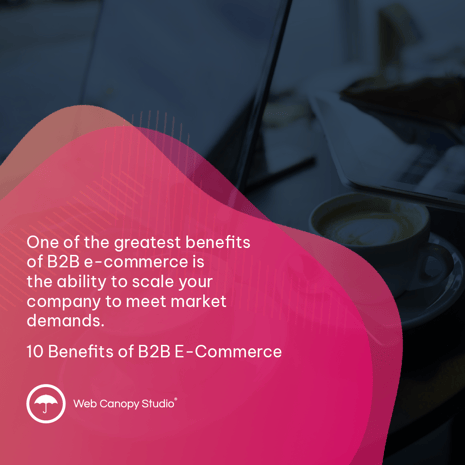 Increased Sales
Everyone knows that increased sales lead to more revenue. In the B2B e-commerce space, it can also help your e-commerce platform become part of your sales team. A web store can actually increase brand visibility and help to evaluate marketing campaigns to ensure they are successful.
Along with attracting new markets, utilizing B2B e-commerce can help retain current clients by increasing customer engagement and helping them feel empowered in the ordering process. Customers can order and reorder according to their negotiated terms, increasing company sales with no additional effort from your sales teams.
For example; HubSpot stores contracts, CRM (Customer Resource Management) and payment information within their cloud software, making the buying and invoicing process incredibly efficient.
Improve Costs
Automated processes are here to stay, and are revolutionizing business processes. Though the initial integration of automated ordering and an e-commerce platform may bring about extra costs, they will lower costs in the long run.
For example; HubSpot payments can help to streamline the quote to cash process and reduce rework on contracts and invoices, ensuring that companies get paid right away, rather than waiting for finance departments to do it manually. Manual work = longer lead times and the likelihood for human errors and rework.
Better Customer Service
B2B e-commerce platforms have self-serve options available 24/7 that allow other businesses to track their contracts and orders without ever having to talk to customer service teams. There is account information and order history all available in one convenient location, which frees up customer service for those who truly need to speak with a person, ensuring customers have a truly customer centric experience.
Increased Productivity and Efficiency
B2B e-commerce is amazing at improving productivity because it helps to automate workflows, allowing companies to put their focus in other areas. For example; HubSpot has a great user interface that integrates with the back-end business processes. This ensures customers can re-order as needed and reduces the likelihood of errors. This also clears up employee times to focus on customer service, finding new leads, and ensuring the fulfillment process is top notch.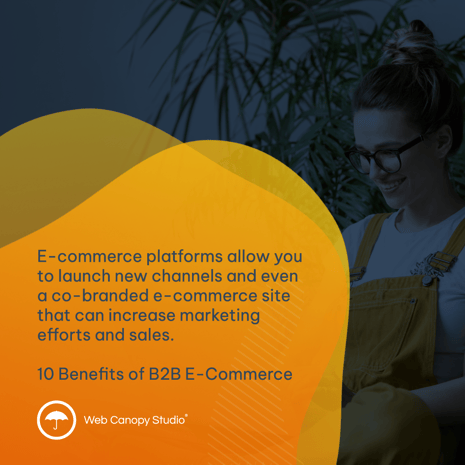 Reach New Customers and Markets
B2B e-commerce allows companies to have an online sales portal and a digital catalog with product descriptions and prices, which is essential to reaching new markets and customers. Creating an SEO optimized site will lead to improved brand awareness and help reach potential clients.
In addition, because self-serve portals are available 24/7, B2B e-commerce companies can reach customers all around the globe and don't have to worry about lack of availability due to time change differences.
Data and Analytics
Data and analytics within B2B e-commerce is one of the key benefits for marketing teams that enables them to track their marketing efforts. It also enables companies to track their business processes to seek out areas of weaknesses and make changes that will increase revenue.
Companies like HubSpot payments integrate CRM, sales and product data to give the best insights on whether these processes are effective using relevant customer data. This information leads to improved sales engagement and helps customers make informed decisions for the very best customer experience.
Increase Brand Awareness
Having a B2B e-commerce platform automatically allows you to have an online presence that can help grow your company's brand. One of the most effective forms of marketing is creating SEO content to increase your rank within search engines.
Companies like HubSpot have become expert content creators and have created blogs and content around their services, which not only helps their digital marketing efforts, but also allows them to be a resource for others in their industry for best practices.
Improve Sales Process with Flexible Payment Options
Convenience is key when it comes to order management systems and customer satisfaction. The easier it is for customers to use your online store, the more success your e-commerce site will have.
For example; HubSpot payments allows for multiple payment options and automatic payment renewal settings. This allows customers to opt into monthly payment options once they have processed their initial sale. This means automatic revenue and client retention.
Multisite Capability
The buying process has changed a lot over the past 5 years, even when you are looking at online purchasing. E-commerce sites allow customers to move from various devices (i.e. from a phone to a computer) and across multiple platforms for ultimate sales effectiveness.
E-commerce platforms allow you to launch new channels and even a co-branded e-commerce site that can increase marketing efforts and sales.
B2B E-commerce Platforms Are Necessary for Survival
Even companies with the best sales teams and B2B relationships will not survive without a B2b e-commerce platform. Along with the many benefits listed above, companies will simply not stay relevant without a solid online presence that grants their customers instant online access to all of their accounts and ordering information. Automation is not the future, it's here right now and must be utilized in all B2B sales.