B2B eCommerce or business-to-business eCommerce is here, and it's going to stay. According to Digital Commerce 360, online sales made in eCommerce sites, log-in portals, and marketplaces increased by 17.8% in 2021. Statistics also suggest that the North American B2B eCommerce market will be worth more than $4.6 trillion by the end of 2025.
These numbers show that eCommerce technology is no longer a trendy channel that B2B companies are testing out. Instead, reports show that more than 65% of B2B companies operating in different industries will be fully transacting online in 2023. The report also indicates the number of businesses that will offer eCommerce over traditional in-person sales is continually increasing.
If you're wondering why, the answer is simple: eCommerce drives more revenue. The same report shows that more than 15% of B2Bs' revenues are generated from eCommerce. B2B eCommerce drives more revenue than video conferencing, emails, and phones.
All of the numbers and statistics mentioned above support the data from Wonderman Thomson, which states that more than 49% of B2B buying in China, the US, and the UK takes place online or through online channels.
To succeed in B2B eCommerce, it's not enough to create a basic website or offer a subpar customer experience. Countless businesses worldwide are using emerging trends in eCommerce to their advantage. Using the bare minimum will not do your business any good.
Here, we'll talk about ten B2B eCommerce trends that are expected to shape 2023. Take note of the emerging trends mentioned here, so you'll know what to invest or use in your business.
What Happened in 2022?
Before we dive into the B2B eCommerce trends of 2023, let's look back on what made waves in 2022. All of the information presented in this section will help you determine what's new in 2023. You don't want to invest in eCommerce platforms, which gained negative reviews back in 2022, right?
The business industry is fast-paced, and your company should know how to keep up with the times in order to meet customer expectations, satisfy existing customers, gain customer loyalty, and stand out in today's digital commerce world.
The year 2022 was challenging for businesses because this is when the effects of the pandemic really hit. During this time, the industry had to focus on providing personalized experiences, mobile-first websites, and omnichannel selling. Let's take a look at what happened in the B2B eCommerce industry in 2022.
Personalized Experiences
Personalization became one of the most important ingredients for B2Bs to provide customer satisfaction. It became the key to creating seamless buying experiences that make customers feel appreciated and special.
For an eCommerce store to offer personalized experiences and attract more business buyers, the following tactics were implemented:
Personalizing product recommendations based on the online activity of the customer. For example, if a prospect spends a lot of time viewing pages on shoes, the business's digital marketing efforts will include sending newsletters about shoes or offering discounts and promos on shoes through mobile apps.
Implementing retargeted initiatives to convince hesitant customers to make a purchase. This means sending different messages on digital channels depending on where the customer is in their journey. For instance, if a customer is already interested in a product but is still not sure what it does, businesses will use online spaces to provide in-depth information about the product — what it does, how one can use it, and what the benefits are of using it. Being equipped with this information is often enough for a customer to move through the funnel and buy.
Creating campaigns around abandoned carts to remind customers about the items they were interested in and encourage them to take action ASAP. This usually means sending emails and text alerts about abandoned carts, offering unique promos, or informing them about low inventory.
Paying attention to your customer's buying behavior is challenging but taking this route is worth it. By collecting and maximizing customer data, you can improve their overall experience with your business and increase revenue all in one swoop!
Mobile-First Websites
As people stayed at home to remain safe from the pandemic, nearly 73% of eCommerce sales in 2022 came from purchases on mobile devices. This was the status quo in 2022, which promotes businesses worldwide to offer top-notch mobile customer experience. Especially considering that according to statistics, customers are 62% less likely to buy from a business again after having a negative mobile experience.
Regardless if businesses choose to create a downloadable mobile app or a responsive mobile website, focusing on mobile-first was the trend in 2022 and 2022. And if your business is still not offering this, it's crucial to modernize in 2023.
Omnichannel Selling
The year 2022 saw omnichannel selling as the standard for many B2B businesses. Using ever-growing digital channels to sell products and services is convenient for customers as it allows them to browse countless options without leaving the comforts of their homes. It also enables them to complete a sale using different methods, whether that be through traditional methods, self-service options, or remote interactions.
According to a McKinsey Report, at least two-thirds of customers prefer using a digital self-serve tool or a remote human when buying products or services online. So by offering an omnichannel experience, you can have peace of mind knowing you're able to engage with customers using a platform they prefer.
What Are the Newest B2B eCommerce Trends in 2023?
Now that we know what took place in 2022 in terms of B2B eCommerce trends, it's time to move forward and talk about new trends in 2023. For a business to thrive in the ever-competitive world of business, it's important to stay ahead of the competition — and understanding the newest B2B eCommerce trends in 2023 will help you achieve that goal.
The following trends are sure to make waves in 2023:
Investing in eCommerce Platform Technology
As you map out your business's journey to digital transformation, using a B2B eCommerce platform is an excellent way to start. eCommerce platforms function as the center of the digital ecosystem, and prioritizing the use of an eCommerce platform technology can become your business's competitive advantage.
But keep in mind that not all eCommerce platforms are the same. Most still operate as a one-size-fits-all type of solution, which means that you won't have the flexibility to create and implement the best solution for your needs.
On the other side of the coin, you'll find platforms that don't solely support the functionalities of B2B eCommerce. On the contrary, they offer a few workarounds and additional features.
Using Social Media Platforms
Social media commerce has been dominated by B2C businesses for years, but things are expected to change in 2023. This year, B2Bs are slowly becoming more and more reliant on social media platforms because more often than not, their business buyers are already using these digital channels.
Gartner states about 46% of B2B buyers prefer using social media to learn about available solutions, 40% use these channels to compare solutions, and 35% use them to gather more information about a product or service before completing a sale. Gartner also discovered that more than half of the B2B in the world had used at least one social media network to set up their online store.
If the idea of selling and offering checkout using social media sounds too time-consuming and stressful for your business at this time, consider experimenting with B2B marketing on social media. To start, pick a platform that's most accessible and used by your target audience and create different posts, like comments from your previous customers and videos showing how your products work. Over time, this can help you determine the type of content that best attracts your target audience.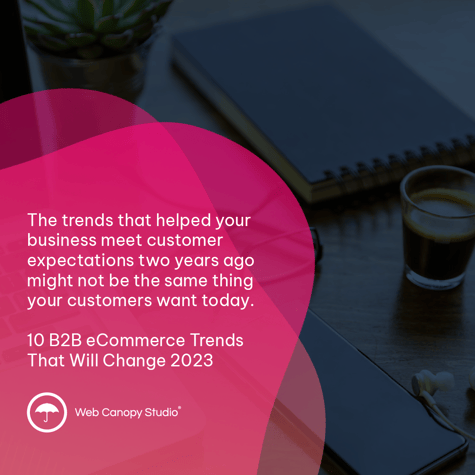 Prioritizing Product Discovery and Information
One of the most common pain points B2B buyers face is finding products. And even if they do find the products they want or need, they'll still face challenges in finding accurate and relevant product information. This can delay customers' buying journey, which can also mean less revenue for the business.
Fortunately, there are several ways B2Bs can address this problem. One is by investing in product information management (PIM) software. Proper and consistent use of this software can drive business growth because it can collect, manage, enrich, and distribute product information across different online channels, ranging from sales channels to advertising networks.
Fulfilling Orders Faster
B2B companies are now entering digital commerce by offering flexible digital payments, seamless mobile commerce, and many others. Because of this, the need for efficient fulfillment processes has become more important than ever. In fact, in today's post-Amazon world, 73% of millennials demand this kind of business model from B2B companies.
To meet customer expectations, B2Bs can streamline their fulfillment processes by utilizing order management software. This can be an excellent platform for B2Bs to manage orders made in different sales platforms, reduce supply chain complexity, and centralize information.
Using New Payment Platforms
The pandemic adversely affected the revenue and paying capacity of B2Bs worldwide. This motivated businesses to use new payment options, so they could pay in installments or postpone payments.
One example of this kind of service is the credit-as-a-service platform introduced by MSTS Inc. Presently, Alibaba offers Payment Terms — a payment option implemented through a credit-as-a-service platform that enables qualified businesses in the United States to pay for their orders within 60 days after they received their invoice. This service is available for businesses without any additional fees or interests.
Embracing new payment platforms and the introduction of more flexible payment options help B2Bs haul in more players. It also improves the level of customer experience they offer on different sales platforms.
Offering Dynamic Pricing Options
Research shows that B2B companies are twice as likely to use dynamic pricing as their competitors. Through dynamic pricing, vendors can adjust the prices of their products and services and market needs in several ways. For example, vendors can determine the price of their products and services after analyzing customer data. Or the vendors can change the initial prices based on the demand for the products and services. Meaning if certain goods are low in stock, vendors can increase the prices. Conversely, if the demand is low, vendors can lower the prices.
Dynamic pricing is advantageous in many ways. First, it protects sellers from financial losses caused by sudden changes in the market. Second, it enables sellers to take advantage and earn more from those changes.
Before the pandemic, the interaction between buyers and sellers involved cycles of price negotiations before a sale. Fast forward to post-pandemic and online marketplaces focus more on addressing the requirement of business buyers to ask for a quote from manufacturers and vendors and negotiate better prices.
Focusing On High-Quality Service
Nowadays, business buyers rely on self-service channels before completing a sale. They use it to research products and services, evaluate their values, place an order and reorder in the future. However, merely offering a decent digital self-service platform isn't enough to make customers happy. After the top-notch service they've likely experienced as customers of P2P and B2C marketplaces, B2B buyers expect a certain level of service from B2B eCommerce.
B2B marketplaces have to provide the best service to their customers throughout their journey: from placing an order to making sure that the order is delivered to the correct address. B2B decision-makers are more likely to choose online retailers that provide outstanding digital performance than those that only provide fair or mediocre assistance.
Leaning Into Sustainability
Climate change awareness has increased globally. This is the reason why countless B2B companies are building and implementing initiatives focused on sustainability. And while these goals benefit the environment, they also positively impact the business. Studies show that customers are 4.3 times more loyal to eco-friendly businesses.
One of the easiest ways to showcase sustainability in your business is by investing in sustainable packaging. Avery Dennison, one of the most successful eCommerce B2B brands, used this technique to ensure customers leave a positive impact on the environment.
Another way to make your business more sustainable is by reducing waste. Yes, this is a common step in achieving sustainability, yet only a very few B2B companies succeed. To ensure your efforts towards sustainability will succeed, start small, like recycling paper. Instead of throwing out huge piles of scrap papers, recycle them by reusing them for memos, notes, or drafts.
Regardless if it's improving packaging, reducing energy consumption in production, or changing product materials, B2B companies should find ways to become more eco-friendly. This is going to be an important trend moving forward.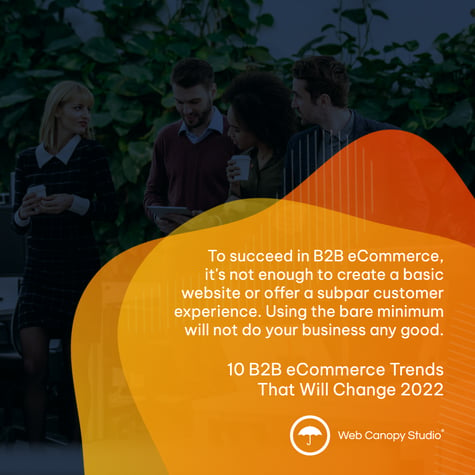 Offering AI-Driven Personalization
Personalized experiences were important in 2022, but B2B companies are expected to take this step further in 2023. Personalization is here to stay, but how brands go about this trend continues to evolve through the years. And for 2023, B2B companies are expected to embrace artificial intelligence in order to offer personalization to existing customers.
One survey showed that 27% of respondents are frustrated about brands with inconsistent messaging initiatives and another 27% find it annoying when businesses offer irrelevant marketing. This simply means that your customers don't mind hearing from you more often as long as you send them content that looks and feels personalized based on their profile. To achieve that goal, B2B companies have to collect and analyze data about their customers and strategically plan what to do next.
You can offer AI-driven personalization in many ways, namely:
Personalized Ad Targeting
Thanks to machine learning, B2B companies can create better, more targeted ads based on different factors in real-time. These factors include the customers' buying history, behavior, demographics, and others. With the help of AI, B2B companies can appropriately match advertising requests to the correct audience at the right time.
Personalized Websites
Different buyers need and want many types of content from your eCommerce platform. For instance, someone who has never heard about your brand will require different content than someone who is ready to buy from you.
With AI, you can automatically customize the content of your website based on the user. This can result in higher conversion rates and an increase in revenue.
For example, you can use the location of the user to determine the language and currency to use once they access your website. You can also use AI to determine if a user is a first-time visitor, and then offer more informative content about your products and services. If they're a repeat user on the website, you can provide images of products they recently bought.
Personalized AI-Powered Chatbots
One of the most crucial steps in offering personalization is to gather in-depth data about your customers or users. Unfortunately, traditional website forms aren't enough to complete this task. Website forms are limited, which means that visitors can't share any additional information unless required by the form. This prevents you from learning more about your customers and what types of products and services they are looking for.
Using AI-powered chatbots is a great way to gain deeper insights from users. Chatbots track purchasing patterns and analyze customer behaviors by monitoring user data. For instance, chatbots can determine the product pages a user usually visits and then offer those products the next time they ask chatbots for help. This expedites the buying process and improves user experience.
Using Self-Service Buying Portals
According to Statistica, 39% of B2B buyers want to use self-service options — like being able to buy without engaging with a company's sales team — when buying from B2B companies. This number is expected to increase throughout 2023, making it a major emerging trend for the year.
Entrepreneurs believe that B2B buyers want to research and purchase goods and services from the same eCommerce platform without having to talk to sales reps. Recent research also revealed that 86% of customers opt to use self-service tools rather than contact any sales team.
Complicated sales cycles will require some sort of human interaction, but this shouldn't hinder B2B companies from investing in self-service tools. On the contrary, B2Bs should automate as many parts of the buying process as possible as this will lead to customer satisfaction and customer loyalty. The simpler the processes are, the better.
Takeaway Points
B2B eCommerce trends continue to change — the trends that helped your business meet customer expectations two years ago might not be the same thing your customers want today. This is the reason why you should stay up-to-date with the latest trends in the industry.
Take note of the B2B eCommerce trends mentioned in this article so you can start implementing them as soon as possible. Staying on top of new trends will keep your B2B company at the forefront of your customer's minds.