Online shopping has become more common than ever. In fact, it has become a norm in today's tech-driven society. According to statistics, 26.28% of the global population are online shoppers, and 20% of these individuals shop from an online store at least once a week.
The global e-commerce sales are booming worldwide and are expected to reach more than $6.5 trillion by 2023. This number is expected to increase in the coming years as other businesses from different industries are slowly using an e-commerce platform and adapting to digital transformation for their day-to-day transactions.
This article will discuss the differences between B2B and B2C e-commerce to provide better insight to individuals interested in starting their own e-commerce companies. We'll cover all the essential information on B2B and B2C to help interested individuals navigate the industry.
What is B2B E-commerce?
Business-to-business, or B2B e-commerce, is a model that facilitates transactions and relations between businesses, wholesalers, manufacturers, and retailers through the internet using an e-commerce website or other online platforms. Processes involved in B2B e-commerce are usually more complex because it has a minimum order quantity and involves bulk orders.
One of the most common examples of B2B e-commerce is the automotive industry. Manufacturers produce different car parts, such as batteries and engines, and then sell them to automotive companies. These companies will use those parts to build cars from scratch and then sell them to their target audience.
Starting a company involved in B2B e-commerce provides the following benefits:
Huge Market Potential
As a B2B company, you have a huge market potential as you can target different markets across different industries - from products like office furniture to services like consultancy and human resources. You'll also have the flexibility to specialize in one industry as you can use specific tools or apps to improve your sales process.
Convenience
Business-to-business transactions occur online, which is more convenient than selling through physical stores. This business model also allows you to implement social media marketing and other forms of digital marketing to promote your products and services to online retailers and other business buyers.
More Efficiency
B2B businesses can integrate sophisticated software or systems into their operations. For example, you can use analytics to determine which part of the buying cycle business buyers abandon your e-commerce website. You can use this information to improve your online store or to determine if your sales rep needs more training.
What is B2C E-commerce?
B2C e-commerce stands for business-to-consumer and is a business model that describes the relations between retailers and their customers. This e-commerce model focuses on selling goods and services directly to end consumers using e-commerce platforms.
Some of the most common examples of business-to-consumer e-commerce is buying plane tickets or shirts online. Any transaction made by individual consumers with e-commerce retailers using an online platform is considered B2B e-commerce.
We've listed some of the benefits of starting a company in B2c e-commerce:
Shorter Sales Cycle
Because only the end consumers are involved in the decision-making process, B2C e-commerce has a shorter purchase cycle. This enables businesses in B2c e-commerce to generate profits and create healthy relationships with consumers faster.
Eliminates Third Parties
Selling products and services directly to consumers eliminates the use of third parties. Without any intermediaries involved, you can save money and earn more profits. This business model also gives you complete control of every aspect of your business.
Direct Communication
B2c e-commerce enables you to communicate directly to your target audience using personalized methods, such as SMS, emails, and push notifications. Being able to communicate with your consumers directly also makes it easier for you to determine which communication platform works best for your business. This way, you can convert more visitors to your e-commerce website.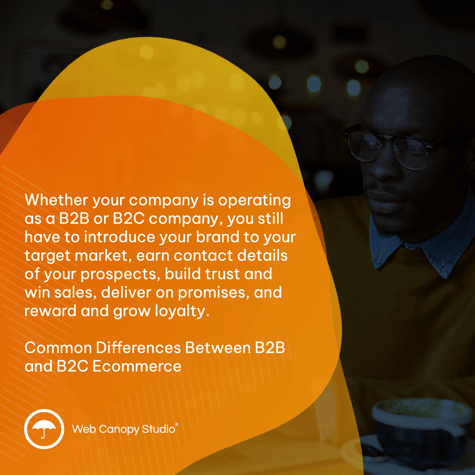 What are the Common Differences Between B2B and B2C E-commerce?
In this section, we'll talk more about the critical differences between B2B and B2C. Use this information as your guide when you decide to sell products and services online. Knowing how the industry works can become your key to succeeding in e-commerce!
Buyer Intent and the Decision Making Process
One of the key differences between business-to-business and business-to-consumer e-commerce is the buying intent. Consumers usually make a lot of small purchases. For instance, when consumers visit a local grocery, they'll likely purchase a dozen eggs from one aisle and add more cheap products into their carts as they continue shopping. They might even choose a specific brand of cereal over the other as one is on a special offer or discount.
Most consumers don't spend a lot of time considering cheap purchases. This is the reason why consumers' wants and needs drive many B2C businesses. As an e-commerce retailer, you can encourage your target audience to make impulse purchases by offering upsells and better shipping methods.
B2B e-commerce isn't the same because it's about making considered purchases. The reason behind this is the company structure. Studies show that B2B transactions require approval from at least seven individuals in a company. In short, the decision-making process of this model involves more than one person, which can slow down the buying cycle.
Impulse purchases are also less common in B2B. Before making any cheap and expensive purchases, businesses must evaluate them based on the ROI, or return on investment. Since financial resources are crucial to the daily operations and longevity of a business, B2B customers spend a lot of time determining whether making a certain purchase is worth it.
The purchase cycle of B2B companies is also longer. Depending on the size of the transaction and the number of individuals involved in the decision-making process, a single purchase from a B2B company can last anywhere from a few weeks or years.
Type of Transactions
B2B eCommerce experienced rapid growth because of the pandemic. Today, the global B2B marketplace is now 1.7 times the size and value of the B2C market. The difference is partially due to the Average Order Value, or AOV.
In business, AOV is the average amount a customer spends on every transaction per physical or online store. The AOV helps business owners determine whether their pricing and marketing strategies are reaping benefits or have to improve or change their existing tactics. This metric opens a window to assess shopper behaviors and determine how much money to spend buying products and services from a particular business.
The AOV for a B2B company is over seven times higher than it is for a B2C company. One good example is the purchasing of air-conditioning units. Air-conditioning units for businesses can cost thousands of dollars, depending on the size of the commercial building and the number of employees inside. An air-conditioning unit for residential use is generally cheaper.
Another point to remember is that while B2C transactions can include purchasing a luxury car or boat, a single B2B transaction can be worth a couple of millions of dollars.
Customer Lifecycle
The customer lifecycle for B2B and B2C e-commerce is similar. Regardless if your company is operating as a B2B or B2C company, you still have to introduce your brand to your target market, earn contact details of your prospects, build trust and win sales, deliver on promises, and reward and grow loyalty.
But the amount of resources put into lead nurturing is different between B2B and B2C companies. Since B2B purchases have a bigger AOV, B2B companies have to put more resources into customer support and direct sales.
Unlike other businesses, one B2B purchase can lead to years of future business. Simply put, the typical lifecycle of a happy B2B customer is longer than most B2C customers.
Marketing Strategies Used
The marketing strategies businesses use depends on the decision-making process of their buyers. Because how B2B and B2C consumers decide is different, it's no surprise that the marketing strategies used by B2B and B2C companies also differ.
Let's talk about these differences by discussing how B2B and B2C companies market their offerings based on the sales funnel.
Top of the Funnel
The top of the funnel is all about creating awareness about the product and services companies are offering and building consumers' interest. B2B and B2C usually achieve these goals by investing in content-driven marketing strategies. These marketing tactics help B2B and B2C companies rank high in the Search Engines Results Pages or SERPs, which can improve their online visibility and audience reach.
During this phase, B2B companies use social media marketing, online reviews, and blogs to generate awareness. These companies also implement offline marketing strategies, such as producing product demos and joining trade shows.
B2C companies take a different route during this stage of the sales funnel. B2C companies invest in making functional and aesthetically appealing landing pages, publishing blog content, and showcasing social proof on different platforms. Countless B2C companies also pay for TV ads and billboards to generate more leads.
Middle of the Funnel
In the middle of the funnel, activities are implemented to drive customer consideration. The biggest difference between B2B and B2C companies once they reach this point of the sales funnel is the customer lifecycle.
For a B2C customer, the middle of the funnel will require them to read reviews online, consult with their friends and family, or visit the company they're eyeing buying from.
For B2B customers, this part of the sales funnel will likely involve competition analysis, negotiating prices with different companies, meeting with other stakeholders, and checking product demos.
Bottom of the Funnel
The bottom of the funnel is where business owners try to generate sales. This part of the sales funnel can be time-consuming and stressful for B2B customers as they have to review countless business proposals and contracts and finalize terms and conditions. Contracts and other documents have to go through several individuals before a business buys from another business, which is why this phase takes longer for B2B customers.
For B2C customers to buy from a specific company, they'll likely assess the quality, functionality, and ease of use of a company's website and checkout process. When they're happy with these, they'll eventually decide to buy from the company.
Branding
Branding is another area where you can spot a big difference between B2B and B2C companies. In general, B2C companies have more freedom to experiment with their branding compared to B2B companies.
Let's take, for example, B2B and B2C companies selling underwear. Since B2C companies target end users, they can publish blogs with more playful images, say a male wearing his underwear only or a group of ladies flaunting their lace bras. These types of blogs aren't very suitable for the office.
This is the reason why branding efforts used by B2B companies are more conservative. B2B companies are careful with the type of content they publish on their online platforms, the kind of multimedia they use, and the color palette they choose for their logo. B2B companies have to ensure that all of these elements create an unforgettable brand while looking professional.
Business to Consumer vs. Business to Business: Which One Is Better?
Starting a B2B or B2C company has many perks, but keep in mind that both business models also come with several risks and challenges. If you're interested in taking part in the rapid growth of e-commerce, make sure to look at both sides of the coin.
Looking into the bigger picture and assessing the pros and cons of each business type is essential to determine which one suits your current resources and long-term goals.