With advancements in technology, every business inevitably needs a website. For your brand to gain visibility and traction for sales conversion, digital marketing is the only way forward.
User-friendly site features are no longer enough to convert website visitors into customers. Apart from understanding your target market, the key to business growth lies in exceeding consumers' expectations with a unique value proposition. This means that the site and its pages must be continually upgraded. Without a developer, that can be a tricky task for marketers.
This is where a content management system (CMS) comes into play.
Content management systems are platforms where you can make, manage, and modify website content. Its competitive edge lies in allowing marketers access to update their site while expanding their marketing and sales effort on the same platform. Some examples of CMS are WordPress, HubSpot, and Shopify. Known as one of the best ways to enhance a user's experience, it takes online marketing to a new level.
What is HubSpot?
Started in 2005, Hubspot is a powerful platform comprising five hubs: marketing, sales, service, operations, and CMS. It is an all-in-one network that delivers a seamless digital experience for leads and clients. In addition, HubSpot works remarkably well as an operational foundation for small to medium enterprises.
Having served over 167K clients in over 120 countries, its competitive advantage lies in its highly configurable contact database, which supports every aspect of the buyer's journey. With a customer relationship management (CRM) tool, HubSpot CMS integrates three essential functions: marketing, sales, and customer service.
Why Build a Website with HubSpot?
Starting with 15,000 clients in 2015, HubSpot's initial function was to create, manage, and modify website information. Initially driven to satisfy marketers and developers with one tool, it was simply not enough. That was when HubSpot integrated the best of both worlds: CMS with CRM in a single package.
HubSpot designed an inbound marketing movement by focusing on customers, displaying dynamic content, and eradicating interruptions for consumers when they visit the site.
The addition of CMS capabilities made waves shifting Hubspot into a market leader with its easy-to-use website builder, their dedication to continuous platform improvements, and its customer-centric approach to websites.
As a 5-in-1 platform, HubSpot CRM Platform makes organizations scalable, is known for its user-friendly interface and integration, and offers valuable performance analytics to ensure a seamless web-build experience.
Here are the most valuable advantages HubSpot brings to the table.
One Stop Platform
HubSpot is a 5-in-1 marketing & sales platform that drives customer success from a single location. Tailored to meet the needs of a modern-day business owner, it utilizes inbound efforts in cross-functional teams and removes the hassle of using multiple platforms.
Business owners can expect the following services (segmented into 5 main 'hubs') and their benefits.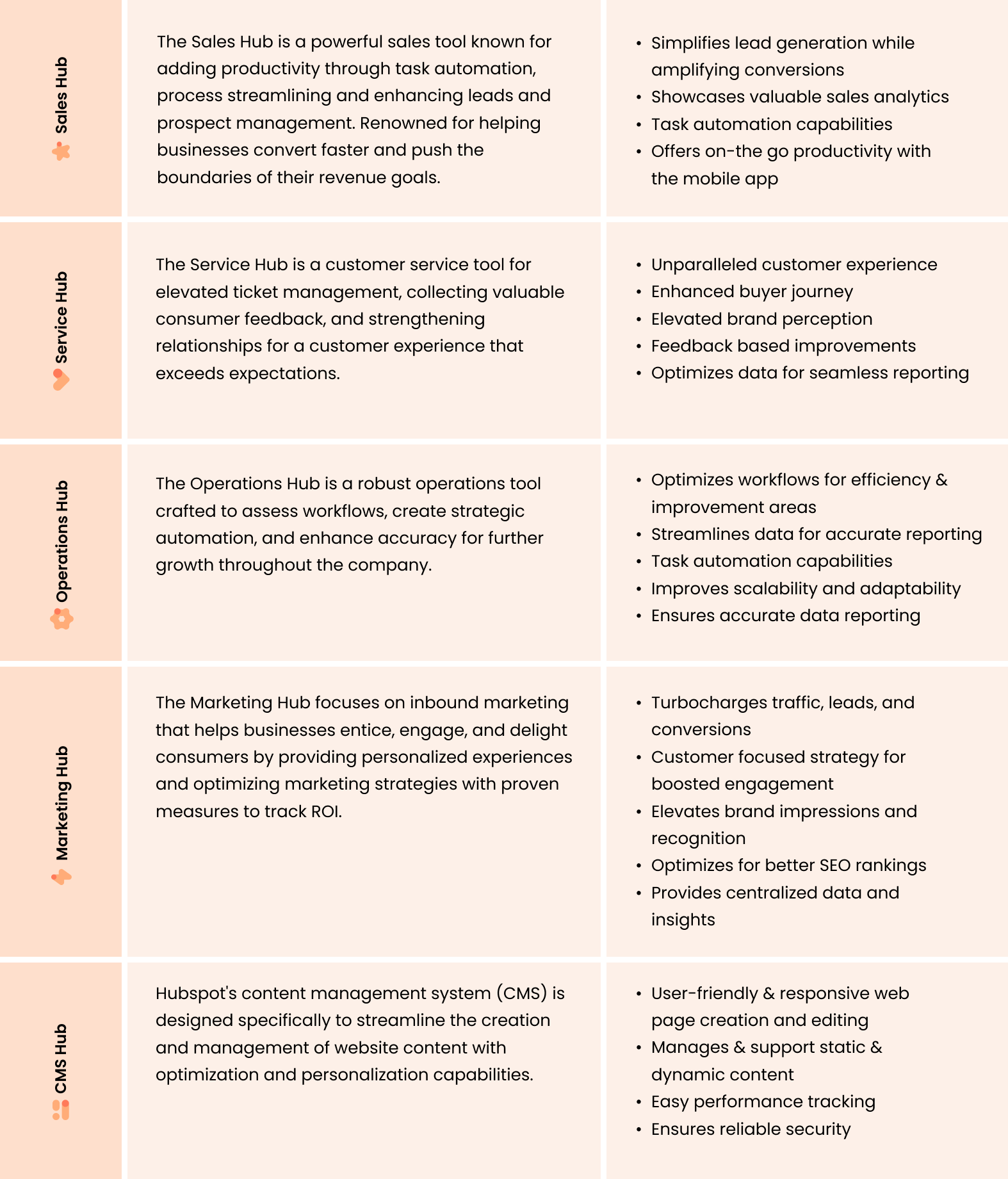 Hubspot's software is renowned for its ease of integration, but even more so for its ability to drive results through each of the five Hubs.
Effortless Edits
HubSpot is well-known to be highly beneficial to both marketers and developers. Its CMS Hub is crucial in hassle-free website updates, keeping the site fresh and relevant to visitors. Marketers no longer need expensive developers for content changes. The much-loved drag-and-drop feature allows even non-tech users to captivate audiences with fully responsive web pages and content that is sure to convert visitors.
Customizable Themes
One of the best features of HubSpot CMS is its flexibility in themes. Choose from a curated selection of themes expertly designed with UX/UI in mind. Hubspot's theme editor is wildly intuitive, allowing you to align your theme selection with your brand colors for a cohesive look and feel. Are you after a custom theme? You (and your developers) will be happy to know that you won't face any limitations.
Past the theme, content updates are a breeze to do from the Hubspot CMS, so your website always stays relevant.
Smart Content
Smart content, often referred to as dynamic content, has taken the internet by storm for its ability to deliver hyper-personalized content that viewers will feel seamlessly has been curated just for them.
How does it work? Instead of a message remaining the same for all users, smart content will show unique content for each viewer.
Some common data that help create this personalized experience can be user behavior, demographics such as age or gender, their entry source on the website, device type, and even their language preferences.
Whether showcasing targeted messages, customizing images, or adapting calls-to-action, you will be engaging the right people, with the right messaging, at the right time. It's a revolutionary way to ignite your conversions. Hubspot makes the setup simple, and its code-free approach makes a once very technical project accessible to all skill levels.
Easy Management of Content and Access
HubSpot encourages website owners to harness the power of data. They have established easy-to-digest dashboards focused on the most valuable analytics for your business. These deep insights ensure your marketing plan is backed by measurable results, so you always have the opportunity to fine-tune target audience groups further, ensuring your content is continually resonating with their audience.
You'll have the ability to conduct A/B testing on your smart content and use the analytics to make informed decisions to further optimize your content for better engagement and conversions.

Best HubSpot Website Examples
HubSpot has gained a strong reputation for its all-in-one platform, user-friendly interface, powerful automation, valuable insights, and excellent customer support. With both loyal and new customers from all over the globe, it's easy to find phenomenal example websites that showcase the true capabilities of creating immersive and impactful online experiences with Hubspot.
One of its best features as a HubSpot website is a special call-to-action pop-up that prompts site visitors to take a desired action. The initial landing page on the website is customer-centric and personalized, offering CTAs determined to keep incoming users on-site such as 'see how' and 'get the guide' buttons. eCommeleon engages a target audience in Germany with its multi-language variations to cover both residents and non-German-speaking users. The company also has a professional visual image that provides easy navigation and interactive elements such as FAQ accordions to enhance user experience. In addition, its core pages capitalize on the trend of green call-to-action buttons, like 51% of landing pages globally.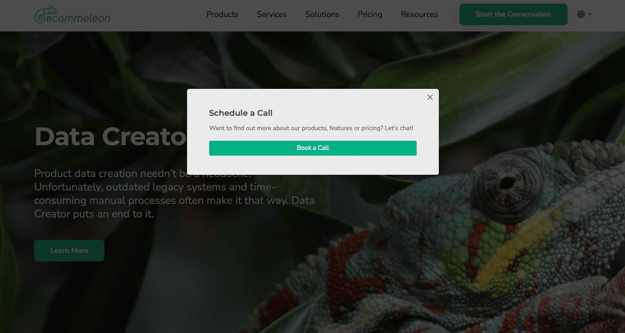 The Admiral website displays its services on the homepage with a stunningly animated background. In addition, it also establishes trust with incoming visitors by showcasing big-brand names with a logo wall on the homepage. Using a red call-to-action button on the website optimizes conversion opportunities as red CTAs boost the rate by 21%. The website uses HubSpot CRM to track users' activities on-site. It has a personalized approach that guides new and loyal visitors to desirable actions. As a bonus, check out how perfectly Admiral has used Hubspot for lead generation, customizing their chatbot to prompt users to leave their contact details!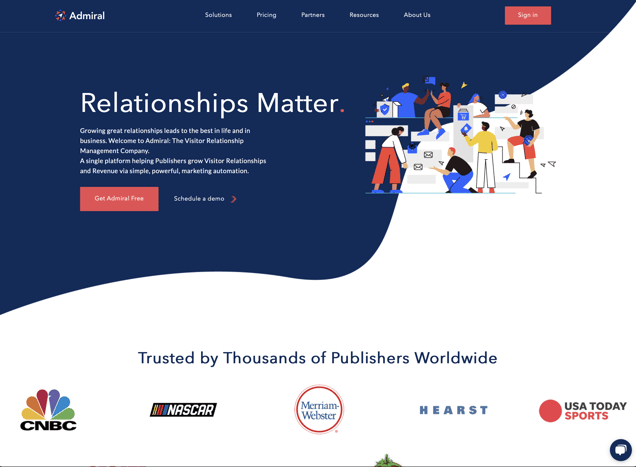 This website's clean design and unique value proposition are clearly displayed on the homepage. This encourages visitors to think of potential results. Oregon State University offers key services on the homepage, providing options and examples with appropriate call-to-action buttons and minimal clutter. One of its main features is the smiling photo of a satisfied consumers. By triggering positive emotions such as happiness, it boosts conversion rates significantly. Customer testimonials on the homepage establish the brand's reputation, building trust and encouraging lead generation.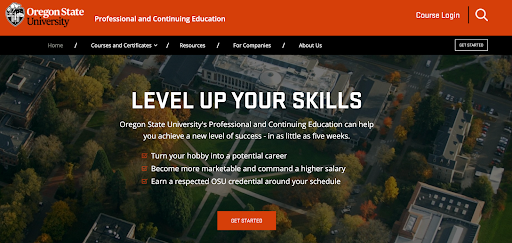 Similar to Ecommeleon, Rockerbox's best features come from two pop-ups. Visually pleasing, they include a green call-to-action button, encouraging users to know more about the product. To further boost conversion rates, the sidebar pop-up on the website showcases examples of cost savings based on a company's revenue and expenditure. With a highlight on the blended ROAs, it triggers the users' impulses as it only generates 7% of sales for every dollar spent on advertising. Lastly, its vibrant colors capture users' attention, especially with the scroll-interactive diagram to show the benefits of its different pricing tiers.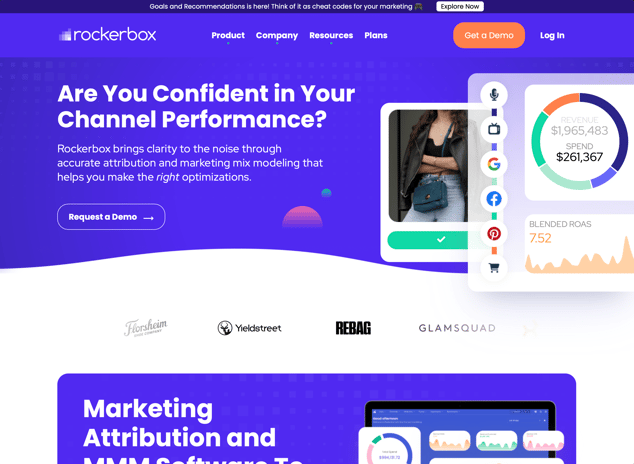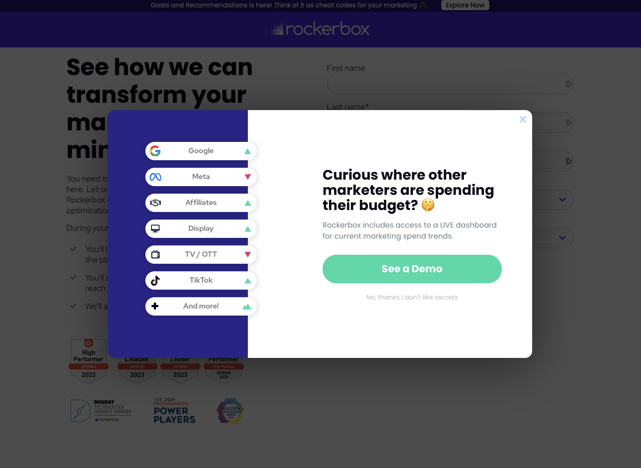 The best part about Trio is its animated call-to-action button that directly links to a video. Clear, professional, and visible, it entices incoming visitors to click out of curiosity. With just two product pages, its simple navigation plays a huge role in helping consumers understand their services. Through a clear-cut visual image, each service's advantages are emphasized. The HubSpot CMS Hub plays a major role in content that speaks to its intended target audience. From a repertoire of brands to a building block of benefits, Trio establishes the brand's usefulness concisely with little navigation.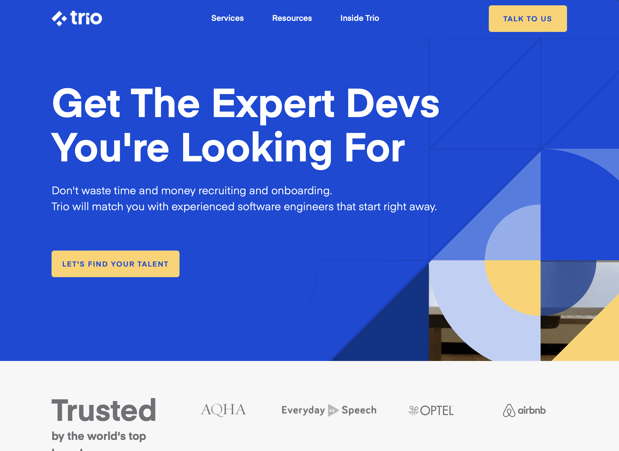 This website starts with effective video marketing tools to encourage lead generation. Based on marketers, 78% agree that videos directly elevate sales. Jumping on that bandwagon, Rewire features a video serving as a homepage hero and the backdrop for their CTA button, driving sales. The company also optimizes its blog by adding the potential time needed to read each post for a more user-friendly experience. Rewire's decision to use arrows and a slightly animated diagram to explain its methods also demonstrates their team knows what they were doing. This clean and simple approach helps visitors understand how each product works step-by-step.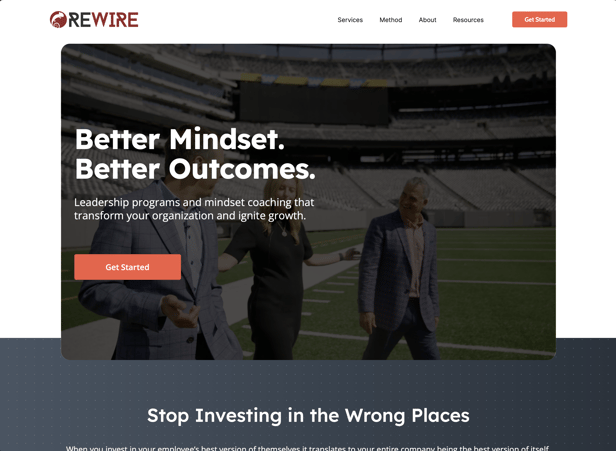 UrbanBound's visual aesthetic is unparalleled. Clutter-free with a clean design, it incorporates little animations of tiny circles to enhance its color palette. With a light-colored background, it is easy on the eye. Targeted to meet the specific need of each consumer, its navigation panels are worded to solve uprising issues. Unlike other websites, it has a red pop-up with anchor texts encouraging visitors to know more about the product. Their competitive edge lies in using the HubSpot CMS Hub to create a seamless scroll-sensitive presentation to transition imagery and descriptions of their services on their product pages.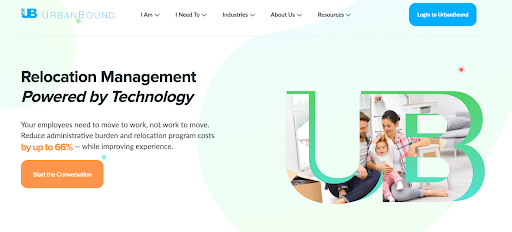 This corporation has a global target audience based on its multi-language variations available in Japanese, English, German, and French. Armed with its pink CTA buttons, there is a clear route guiding users toward a desired action. Contentserv's brand collection builds trust with visitors within the homepage. Together with a sidebar pop-up, the description on it propels consumers to take action. In addition, its blog is sophisticated and incredibly easy to navigate. From search buttons to multiple categories, each component is well-covered. Placing the featured article initially, Contentserv also encourages visitors to read what's vital from a business's perspective.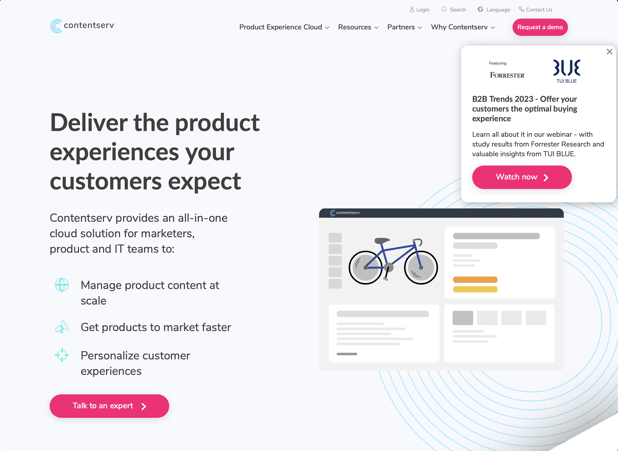 How Much Does HubSpot CMS Cost?
HubSpot understands that businesses come in all shapes and sizes. Their pricing structure bypasses the one-size-fits-all costing allowing you the flexibility to only pay for the tier that best fits you.
Individuals and Small Teams
As a complete beginner, you can use the free tools to generate and email leads separately. If you want to further your business, purchase the CMS Hub starter pack for $23 monthly, providing 1:1 technical support via email, in-app chat, and technical assistance. Supporting up to five currencies, a 10% discount for prepayment on an annual subscription exists.
Make, Modify and Manage Your Site with Web Canopy Studio
With Web Canopy Studio, creating a HubSpot website can be easy. You can build your website and online presence by turning your brand into a conversion machine. Leave inbound marketing, website design, and business expansion with actionable insights to the professionals.
Solve your lead generation issues with our in-house specialists - we have got you covered, from website development to marketing and sales enablement; stellar results are guaranteed.
In Summary
HubSpot is more than just a web hosting system. When properly used, it can be a potent digital marketing ally. Its potential for business expansion with operational excellence is easily within reach through HubSpot's all-in-one platform combining marketing, sales, and services.
Begin your journey with Web Canopy Studio today! Make money with a data-driven approach as you automate internal processes for a streamlined vision.
Leave your contact details to start growing online traffic organically with an established brand presence for profitable growth.