HubSpot Payments has a host of tools that are useful for business-to-business commerce companies who wish to bring their payment processes into the modern era. While business-to-consumer entities have relied on modern, fully online payment processes for quite some time, business-to-business commerce has lagged in this regard. The payment features of HubSpot are advantageous for any company, especially those who want a payment processor integrated into an all-encompassing CRM platform that covers all the business bases.
What is HubSpot Payments?
HubSpot Payments is one part of the end-to-end HubSpot CRM platform. The platform is an integrative business suite that provides marketing, sales, customer relationship management, content management, and now, payment processing services in one easy-to-use CRM program.
The payment processing service is a closed system that encompasses the entire sales process from start to finish. Because the payment processor works within the larger HubSpot CRM platform, everything from lead generation to sales pitches to the closing of a deal happens in the same sales program.
The payment processing aspect of HubSpot might be new, but that doesn't mean it is lacking. Stripe is used to power HubSpot payments, lending credibility, and reliability to the new service. Businesses can accept payments confidently because they know the company helping power HubSpot Payments has been around for over a decade.
The Benefits of HubSpot's Streamlined Process
The largest benefit of HubSpot is the grease it adds to a previously friction-filled sales process; just a few clicks lead you from start to finish.
Time is Saved
Instead of waiting for an invoice to be created and mailed and then waiting for a paper check to be sent back, HubSpot provides the ability to accept payments at the time of sale or to send payment links to interested customers instantly. Digital payments enable companies to receive secure and streamlined payments once a customer accepts the terms of the sale. This stops slow and lost revenue.
Payment Choice
Customers and businesses both benefit from the streamlined payment method. Customers can use their preferred payment method, as HubSpot Payments supports all major credit cards and ACH payments.
Recurring payments can be set up, making it easy for clients to manage payments and businesses to collect payments. Payment information is incorporated into CRM files for future sales or recurring payments alike.
Instant Revenue Stream
Online payments create financial benefits by leaving behind inefficient payment solutions, such as paper checks, and embracing modern payment methods. HubSpot Payments enables companies to be paid immediately. Digital payments quickly move cash from bank account to bank account, making your money readily available.
Customer Satisfaction
HubSpot Payments encourages digital payments for digital purchases, which just makes sense. Both one-time and recurring payments can leave customers frustrated if they are hard to fulfill. Forgoing clunkier invoicing and accepting digital payments enables companies to create better customer relationships while also benefiting their bottom line.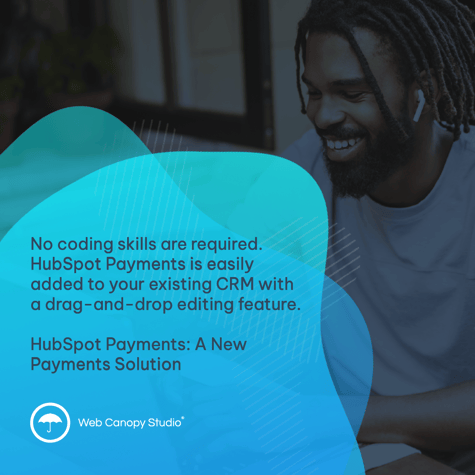 HubSpot Payments is Easy to Implement
HubSpot provides support and a wealth of knowledge so companies can integrate HubSpot services into their sales processes. HubSpot's pain-free payments process is accompanied by a simple and intuitive implementation.
Free Resources
No coding skills are required. HubSpot Payments is easily added to your existing CRM with a drag-and-drop editing feature. All of the difficult behind-the-scenes work is already done for you. This means that anyone can set up an account on their own timetable, without the help of IT services.
If you find yourself with a question at any point in the process, there are multiple free online options to gather information from. HubSpot provides a knowledge database with countless articles answering common questions and providing tips. There is also a community page where users can ask questions, bounce ideas off of one another, or learn from the threads of information the community has already shared. The HubSpot User Blog is another helpful resource with a variety of topics.
These options are helpful for small businesses who opt to use the features available with a free HubSpot account.
Paid Assistance Options
One-on-one help is available if you need assistance or advice. Live support via phone or chat is available to customers, depending on the level of HubSpot account they have. With offices on five continents and the majority of time zones, you are sure to receive quality help during your business hours, whatever they might be. You can also submit an email request for urgent or time-sensitive questions and expect a timely reply when you have a paid HubSpot account.
There are additional paid customer service options that will help you utilize all of the features in the sales hub. HubSpot Academy provides courses and certifications to round out your knowledge. You can also hire a certified solutions partner to help you glean all you can about the functionality of your HubSpot account.
HubSpot is a Win for Customers and Businesses Alike
Everyone wants their life to be easier. HubSpot will make your life and the lives of your hard-earned customers less complicated. Developers built HubSpot payments to create a more connected buyer experience so fast-growing businesses can continue to expand without sluggish revenue streams slowing expansion down.
Payment processing is just the tip of the iceberg when it comes to the value that HubSpot can add to your business. The other customer-facing functions will save you time and effort in the short term, as well as in the long run.
Businesses of all sizes can benefit from HubSpot's sales hub. HubSpot recognizes that one size fits all approaches don't help everyone. One free and three paid membership tiers are available. Leave painful sales processes behind with a HubSpot CRM platform. Book a call to talk with a representative about how HubSpot's payment platform can be integrated into your company and expedite your profit stream today.