So many business owners and marketers make the same mistake that costs them big.
They treat their website and their CRM as completely different entities. While they certainly have their differences, this approach causes them to miss out on scaling your lead generation.
In reality, they should be treated as the exact same thing! The central hub for all of your marketing efforts. Let me break down what that looks like.
Your Website Is Not An Isolated Tool
It's easy to think of your website as just one part of your marketing. Many marketers have a set-it-and-forget-it approach. But they don't take into account that it's actually an essential piece of a larger puzzle.
Your website doesn't just play a small role in marketing; it is the central channel through which all your marketing and sales activity flows.
The one-and-done approach to website design is very outdated. You need a dynamic and comprehensive website that's central to all your marketing efforts.
Your CRM is the single source of truth that all marketing and sales activities occur and are tracked. But it's not on its own. Your website needs to be connected.
I don't just mean that they work together. I mean, they are the exact same thing.
Traditional difference between CRM and CMS
Your website, or content management system (CMS), is the public face of your company. It's used to provide information and generate leads.
An online presence helps to legitimize your business, and a good online presence makes you stand out.
Weak websites merely provide information about the company. They tell the history, introduce you to employees, and tell you what they sell.
A good website tells a story. It hits at the pain points of that business' target consumer and validates their struggles while providing a new solution to the problem. The goal of your website is to convert.
But once you successfully generate a lead from your website, then what do you do?
That's where a Customer Relationship Management (CRM) database comes in.
Your CRM contains all leads and customers so you can reach out to them, keep track of where they are in your buying cycle, and much more.
While a CMS and CRM have different jobs, they must work together. What's the point of generating leads from your website if your CRM never gets them or does nothing with them?
At the most basic level, your website and CRM must be able to communicate, but I want you to take it a step further.
They may be two separate tools, but they must work together. To further explain what I mean by them actually being the same thing, let's compare your company to a common type of business you interact with often.
Run Your Business Like a Restaurant
Think of your business as a restaurant. Many of you reading this have worked in food service at some point. If not, you've at least been to a restaurant.
In a restaurant, you have the front of the house and the back of the house. Front of the house is the hosts, bartenders, and servers. They are responsible for interacting with customers, taking orders, and serving food. A good or bad restaurant experience can be determined by the level of service you get from the front of the house.
The back of the house is the kitchen. They are responsible for the food that you eat. While you may never see them make your food, they are the real reason you came to the restaurant in the first place.
Both are integral to a pleasant dining experience but play very different roles. Despite the difference in roles, nobody would say that a chef is not part of the restaurant, even if you never see them when eating there.
The same goes for your marketing. Your website is the front of the house that your customers see and interact with. It's the public-facing aspect of your business. For it to be successful, it needs a well-run back-of-house or CRM.
Even the best servers can't make up for a meal that takes too long to come out or an extremely overcooked steak, just as the world's greatest chef can't run a successful restaurant with incompetent servers. They need to work together.
Delivering Different Experiences
Do you treat strangers and friends the same way when you meet them in public? Of course not, so why would you treat first-time website visitors the same as well-nurtured leads or even customers?
They are all in different stages of the buying process, have varying levels of familiarity with your company, and ask different questions. When your website and your CRM act as one, you can tailor the user experience based on where they are in the buying journey.
With automation, this can happen in real-time. For example, a new contact fills out a demo request form. You want to assign a sales rep immediately, provide the lead with that rep's calendar so they can schedule a call, create a deal in your pipeline, automate lead score and likelihood to close, and update any necessary list memberships.
Once they book, you'll want to follow up with the lead and provide a confirmation of their booked call, notify the rep that someone has booked a call with them, update your sales forecast, and populate a report to know what campaigns or assets influenced this lead to book a call.
This can happen within seconds if your website and CRM are closely aligned. But if they are out of sync, none of that can happen.
It works both ways. What a user does on your website should update their information in your CRM. Then a salesperson knows what they've interacted with and will have an idea of what they are interested in or what they know about the company.
This information also allows you to make a completely customized website experience for them depending on CRM factors like buying stage, company size, page visits, etc. You can then change the content they see to answer questions your users will naturally have as they move through the buying process with you.
Creating personalized experiences for your customers increases the likelihood of conversion.
Now, all of that may sound complicated. You can start much simpler, but this is where you can take it!
Beyond a CRM and Website Integration
How most marketers look to achieve this through a complicated tech stack. They'll have a website and CRM integration, often connecting Salesforce and WordPress.
Some might use MailChimp for email marketing or other integrations to help with their sales pipeline and CRM tooling. It can easily become a mess of integrated tools trying to communicate with each other.
Rather than passing along customer information between all these platforms, try a system that combines them on one platform. That's one of the reasons we love HubSpot.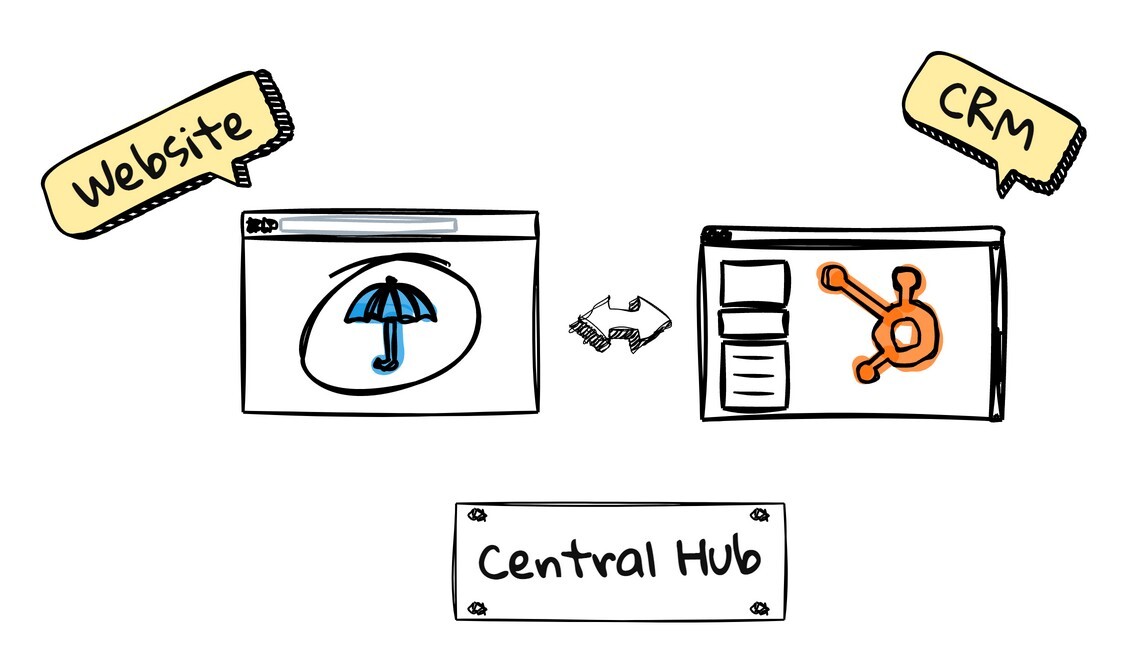 They are a CRM and Website in one. It's the best way to integrate your website and CRM software to help you close more deals.
You no longer need different CRM solutions for lead management, marketing campaigns, customer data, or your sales funnel. It's all on one system, a piece of your CMS software. That's what sets HubSpot apart from other CMS platforms and CRM systems.
Get your sales team and marketing team aligned and on the same page.
Remember, all your marketing leads back to the website and CRM.
Thinking about these as the same tool puts you ahead of the curve and sets you up to build a high-converting website.