Revenue Operations, or RevOps, software is the future of sales for online businesses. It combines sales forecasting, predictive sales analytics, and marketing automation into one central platform.
According to Boston Consulting Group, companies that incorporate revenue operations software see a 10-20% increase in sales productivity than their counterparts who don't. So it's no surprise that Gartner predicts 75% of the highest growth companies worldwide will adopt a revenue operations model by 2025.
Companies such as HubSpot have excellent software options such as Operations Software, Sales Hub, and Dashboard and Reporting Software that allow your company to implement all of your revenue operations needs in one location.
This article will help guide you as you seek to implement or improve your current revenue processes. We will define revenue operations, explain its benefits, and provide seven highly effective revenue operations products, along with their key benefits.
What is Revenue Operations?
Revenue operations strategically integrate sales, service, and marketing departments to maximize business and accelerate revenue. In most companies today, sales, marketing, and customer service are separate, and the data is segmented and siloed. Revenue operations software allows data to be tracked and shared centrally, which aligns departments and helps them to work more cohesively.
Revenue operations management incorporates sales strategies such as pricing models, assessed costs, sales forecasting, predictive sales analytics, and marketing analytics. This tracking enables organizations to monitor prospect and customer data throughout the customer life cycle and visualize how it will impact future revenue streams.
Platform features that revenue operations help to monitor and improve include:
Contact and Activity
Sales Forecasting
Revenue Reporting and Intelligence
Pipeline and Revenue Dashboards
Automated CRM Updates
AI-Powered Analytics and Insights
Benefits of Revenue Operations
Revenue operations are incredibly complicated to track and manage. They incorporate vast data sources, including benchmarks, whitepapers, and first-party data.
Some key data examples include:
Compiling a detailed understanding of how customers move through your site
Which touch points or conversion points are more effective
What deals are most effective with your customers and who you most often attract
What factors are hindering revenue growth for your company
With this wide array of data, it is essential to have software that enables you to make sense of it and turn it into something actionable that drives decision-making.
Centralized and actionable data from revenue operations software will:
Bring together data across every team within your business, from marketing and acquisition to post-sales process and customer service teams
Improve team collaboration and allow them to work as a more cohesive unit thus improving the customer experience
Allow companies to manage the revenue cycle more effectively which increases revenue
Automates the manual tasks within the revenue cycle, such as invoices and payments, streamlines processes and allows employees to focus on other things like increasing productivity
Provides visibility into your pipelines to help visualize opportunities and identify issues that hinder your revenue stream
7 Effective Revenue Operations Products
With the continued growth of online businesses, the need for revenue operations platforms increases. Many companies can offer this service, but you want to select a revenue operations platform to help you gain insights and optimize your revenue performance.
An excellent revenue intelligence platform must provide the following:
Effective revenue forecasts
Accurate activity data to enable data-driven decisions
Sales pipeline visibility and pipeline management that enables companies to assess risks and analyze why things don't go as expected to prevent future issues
We have compiled a list of seven excellent revenue operations software companies that will enable your company to grow and succeed.
HubSpot's Operations Hub (PieSync), Sales Hub, and Reporting
HubSpot is an incredible revenue operations platform that offers everything you need to run your online business. Their company has an excellent CRM and software that assists with marketing operations. In addition, their other hubs help with sales forecasting, analytics, marketing campaigns and revenue operations.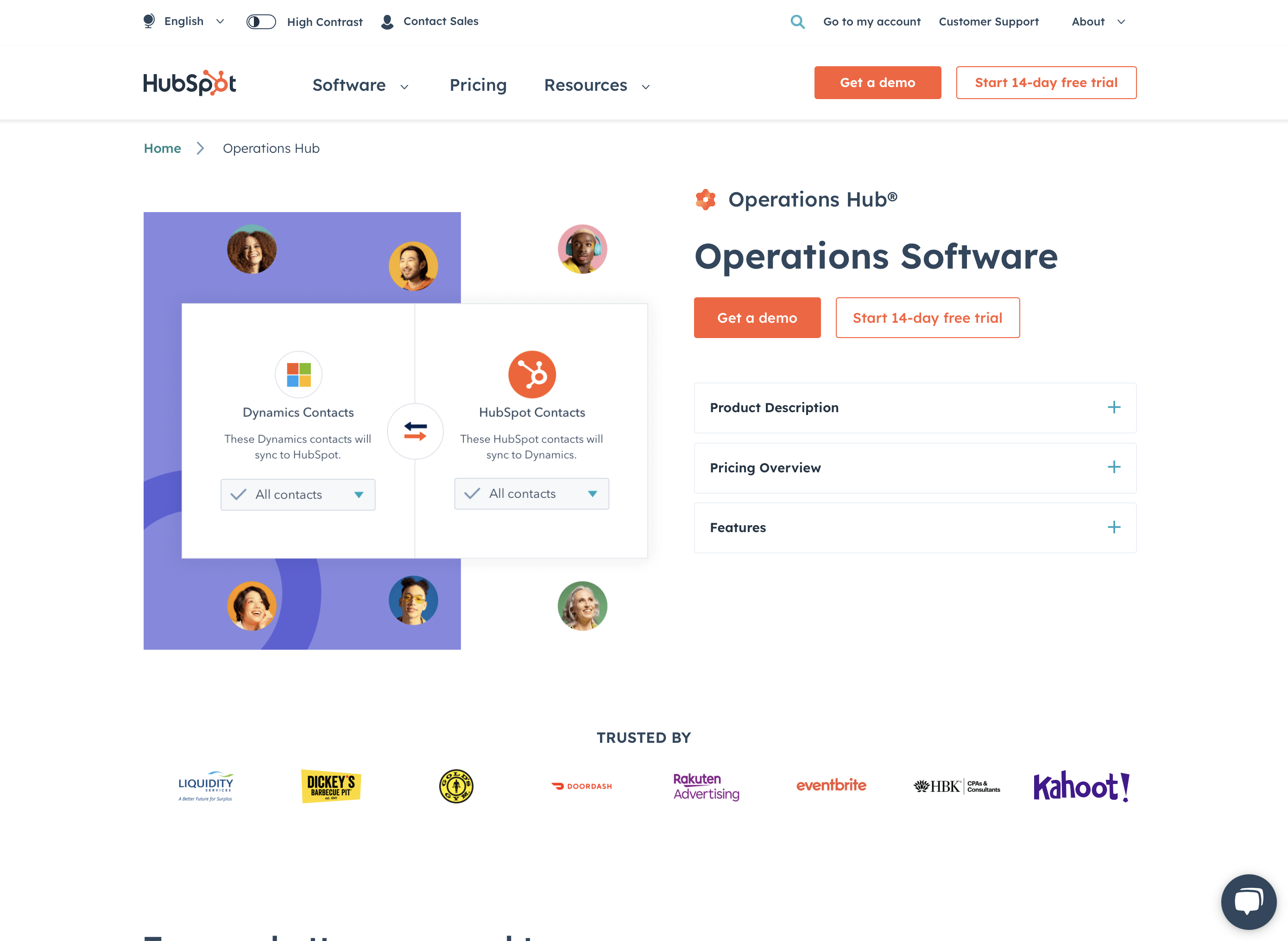 Key features of their revenue operations software include:
An automated data syncing process, which improves data quality by assisting in matching and updating information between apps and removing duplicate data
An automated sales process that focuses on lead nurturing and increasing sales performance
A detailed reporting software that includes all the data you need to understand every aspect of your business and make data-driven decisions
These resources will allow your sales teams to align with customer success teams and provide the best customer experience.
Mediafly Intelligence360
Mediafly Intelligence 360, formerly known as Insights Squared, is a sales analytics platform that integrates with sales, marketing, and operations software.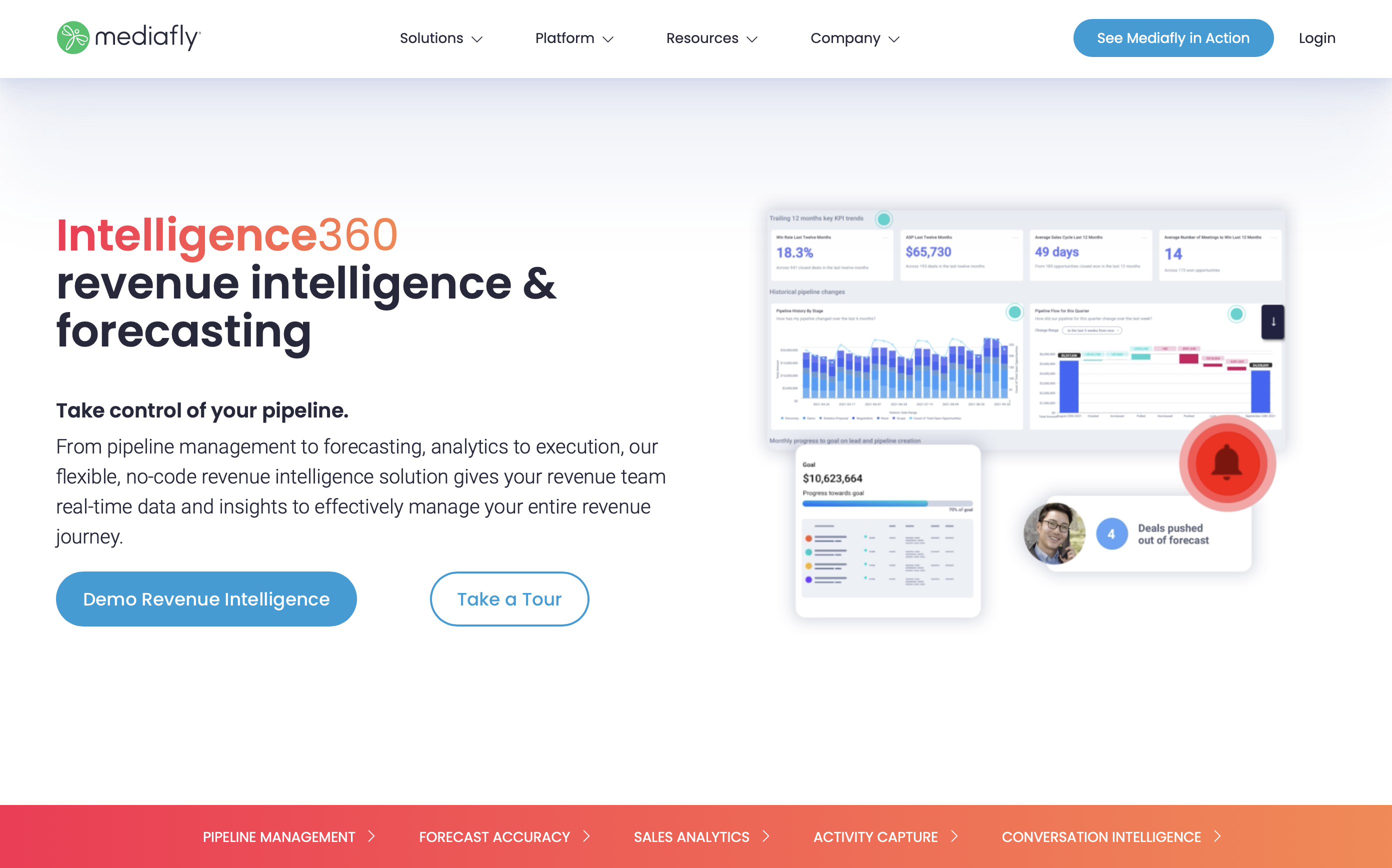 Key features of their revenue operations software include:
Data organization and interpretation through detailed dashboards
A no-code software that enhances pipeline management through better visibility for better decision-making
Accurate predictions on future content interaction, how your buyers' intent can alter sales, and the sales process
The data obtained through the Mediafly Intelligence 360 solution will result in the alignment of sales and marketing teams, as well as predictable revenue that will lead to the success of your business.
Fullcast.io
Fullcast.io is a newer revenue operations platform that seeks to improve sales and marketing alignment for online businesses to help them grow and succeed.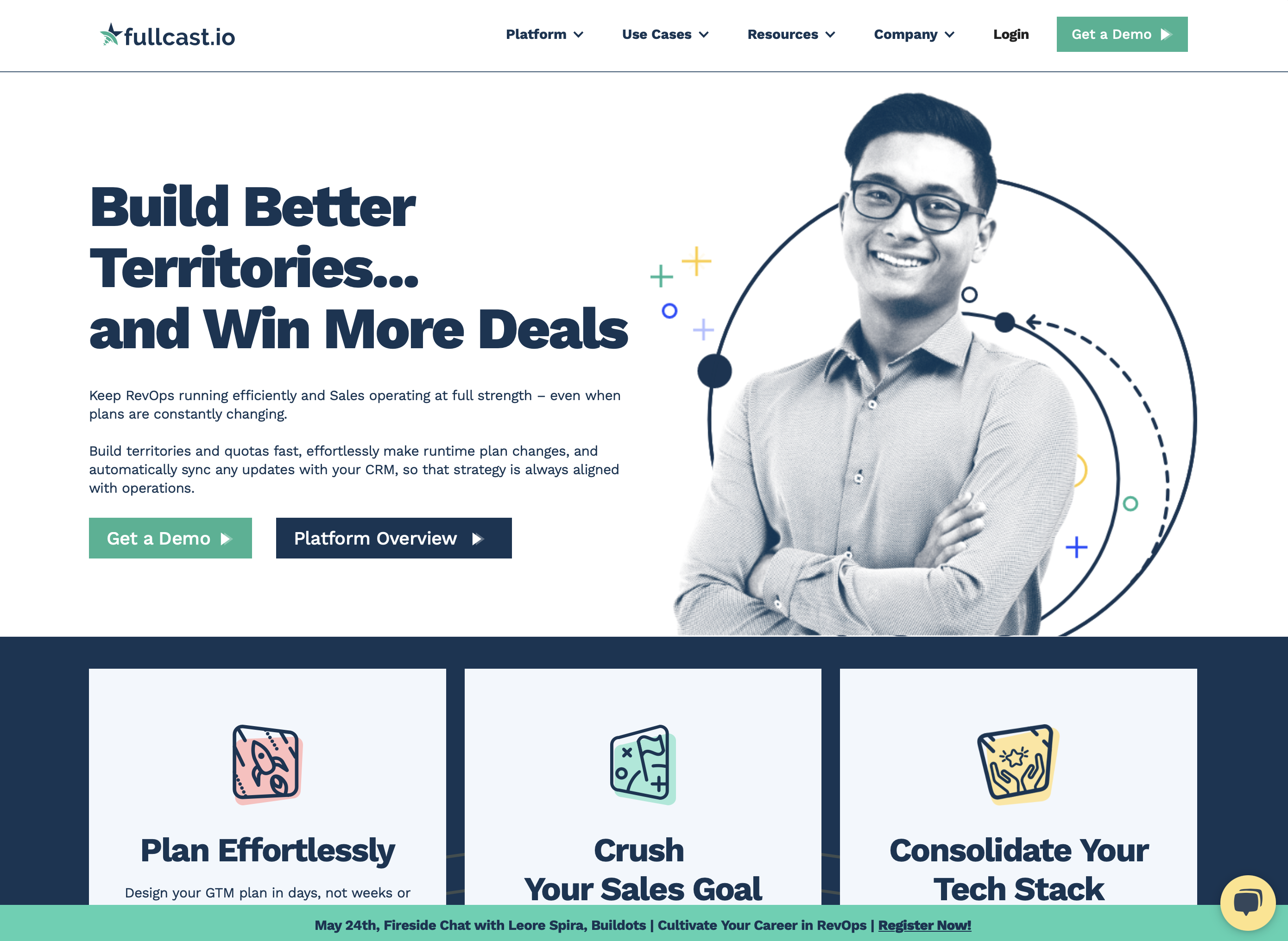 Key features of their revenue operations software include:
An intricate and focused go-to-market strategy that focuses on automating manual tasks
Provides go-to-market scenarios that assist in the decision-making process
A built-in capability that helps with target accounts, territory management, and performance tracking
Fullcast.io will eliminate time spent inputting data into spreadsheets and allow employees to spend their valuable time on increasing sales and improving the customer experience.
ChartMogul
ChartMogul is a subscription company based out of Germany that provides analytics services and integrates with other subscription billing services such as Braintree and Stripe.
Key features of their revenue operations software include:
Detailed interpretation of your revenue stream that assists in important decision-making that will directly impact revenue
Metric tracking specific to subscription businesses such as; recurring revenue tracking, reactivation rates, and LTV (loan-to-value)
Companies with a subscription model benefit significantly from software that truly understands how to manage their revenue forecasts and growth and helps them succeed.
Syncari
Syncari is a revenue operations software that integrates all revenue operations tools to give a complete picture of a company's leads and finances to assist with company growth.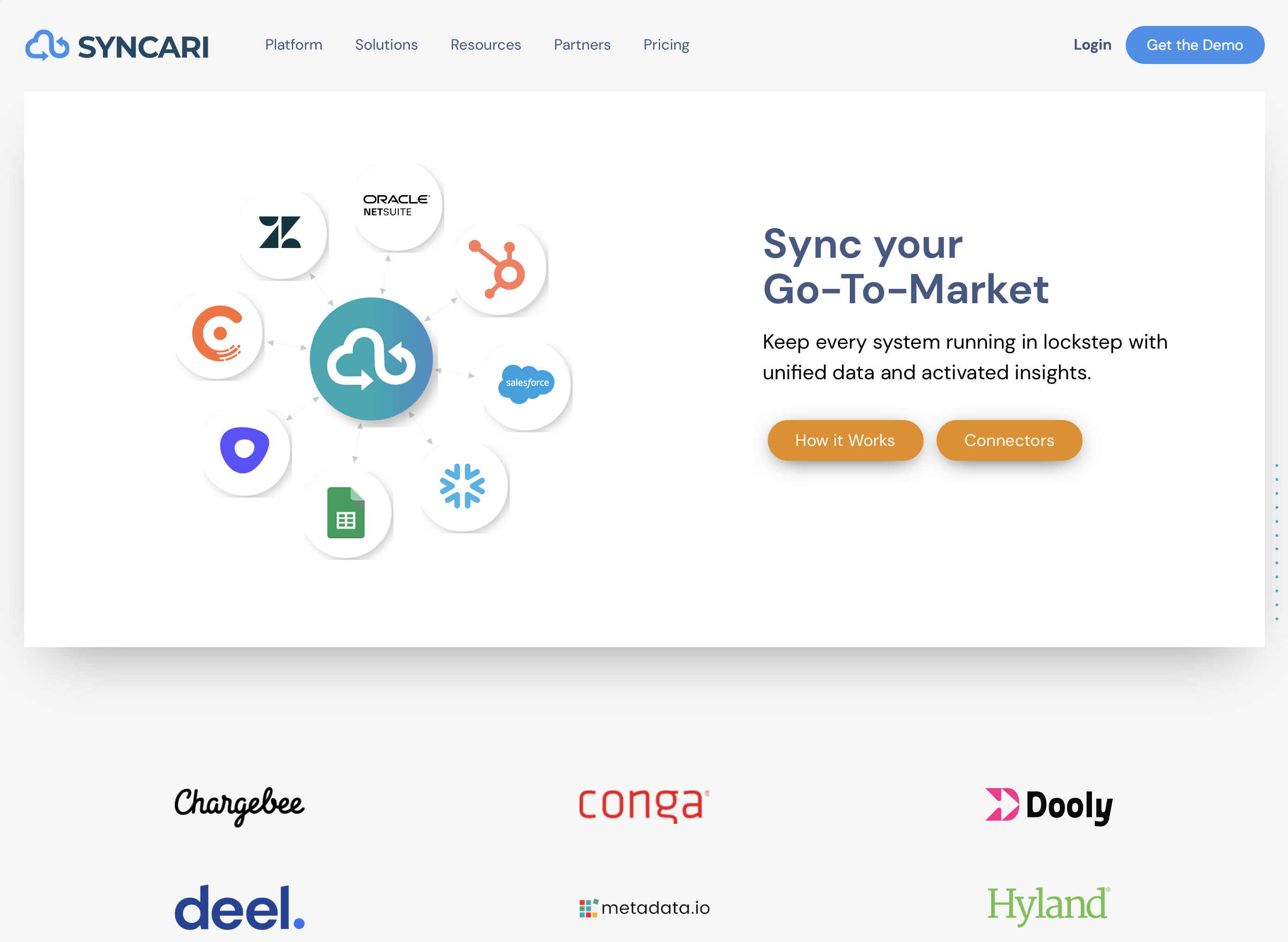 Key features of their revenue operations software include:
Syncing of contact data from every available source into one cohesive, easy-to-manage location, which is especially helpful for larger businesses with varied data sources
Integration of sales and marketing data for easy validation without using time-consuming spreadsheets
Advanced automation opportunities that enable better and more efficient workflows
Syncari is an excellent option for larger companies looking to aggregate their information in one place to ensure its accuracy and utilize it to make informed decisions.
Clari
Clari is a sales analytics and forecasting software that gives in-depth insights to help companies with revenue pipeline management.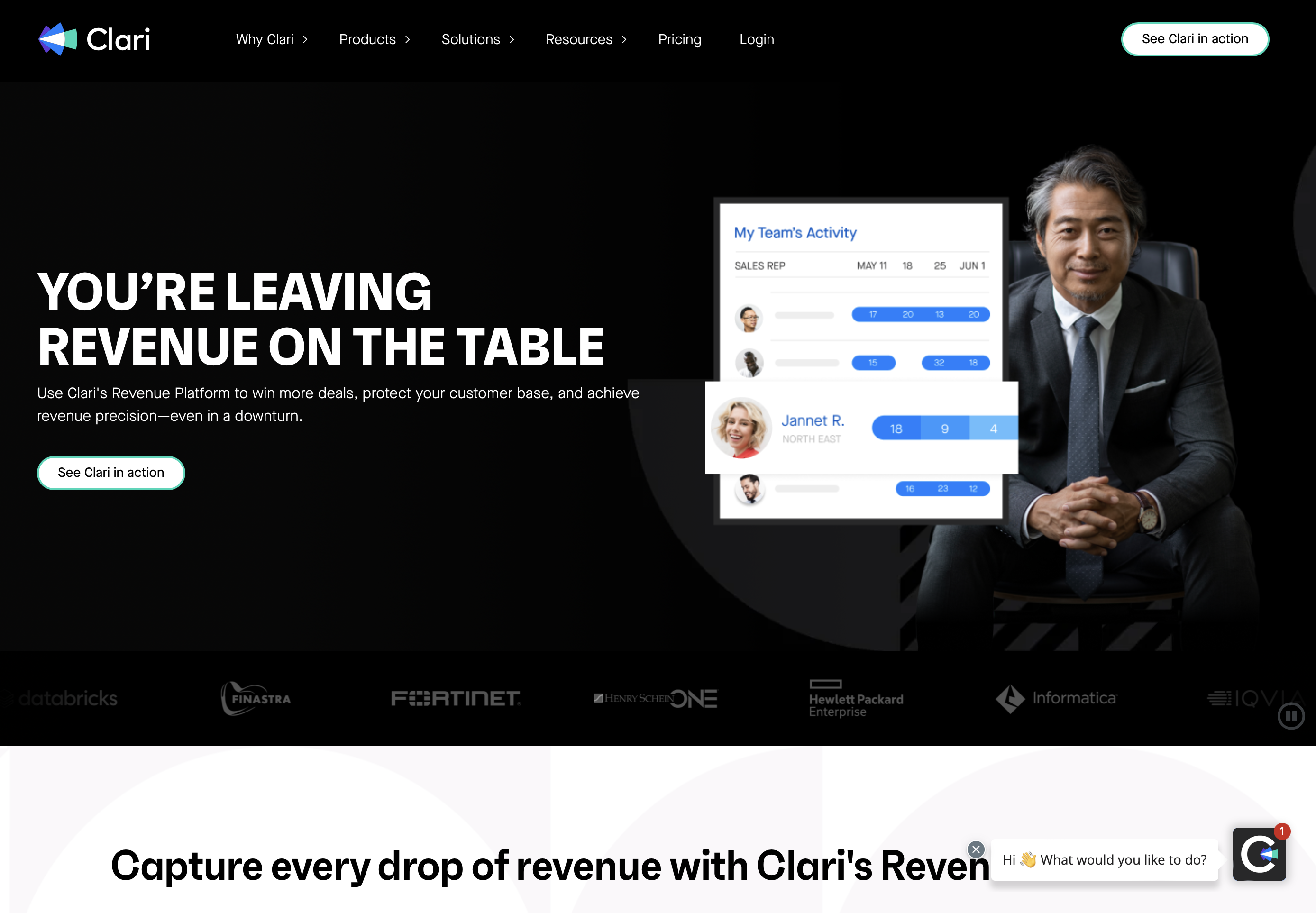 Key features of their revenue operations software include:
A powerful SaaS tool that enables better insights into revenue predictability
Enhances forecasting accuracy to aid in the decision-making process for buying and growth
Allows companies to determine lost revenue due to the misalignment of various software data sources and teams
Clari allows companies to gain in-depth insights throughout the marketing and sales processes to discover areas where revenue may be lost and to implement improvements to prevent future losses.
People.ai
People.ai is a revenue operations software focusing on go-to-marketing automation and revenue-enhancing opportunities.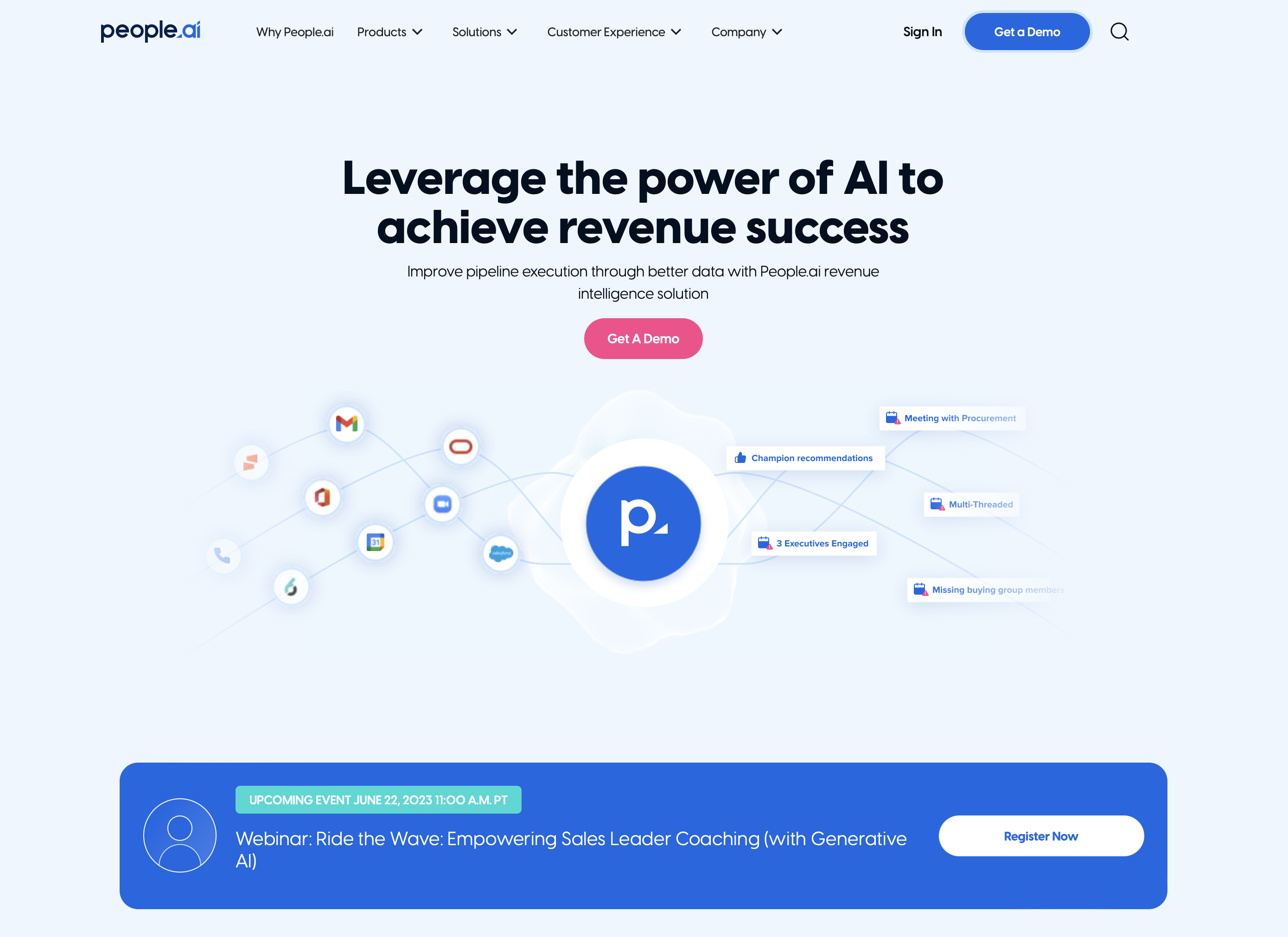 Key features of their revenue operations software include:
Utilizes an artificial intelligence platform to analyze activities such as emails, meetings, and contacts to discover sales opportunities and capitalize on them
Assists with sales automation to enhance sales productivity and increase revenue
Simplifies complex data gathered throughout the sales cycle and turns information into actionable tasks
People.ai is an excellent tool for go-to-market optimization. The software will give great visibility to the sales process and assists in aligning marketing and sales teams to increase company revenue.
Allow Revenue Operations Software to Help Grow Your Business Today!
If you are conducting business online, investing in revenue operations platforms is essential to ensure your company's scalable growth.
A powerful platform will help you obtain valuable insights throughout the sales and marketing lifecycle. These insights are then utilized in making informed data-driven decisions that drive revenue.
Better data visibility also assists in the alignment of various departments such as sales, marketing operations, and customer success teams. In addition, automating sales and data processes result in more accurate data and more time spent on the things that matter, such as lead nurturing and customer service. Revenue operations software will result in a beautiful customer experience that contributes to your company's success.
Don't wait to act on this valuable resource that will assist your company's success from day one! Book your free demo today!