Identifying the core components of inbound marketing is the first step in breaking down such a big endeavor as starting to develop inbound marketing campaign strategies for your company.
Inbound marketing can be overwhelming for your marketing team. That's why we're here to help break this down into easily-digestible nuggets of information (mmm... nuggets).
Let's break this down into five core elements.
1. Buyer persona development
A buyer persona is a semi-fictional representation of your ideal customer based on market research and real data about your existing customers.
In order to create a persona, think about who your ideal customer is. What are their demographics, behavior patterns, motivations, and goals? What's standing in the way of them achieving success? How do you solve that problem?
This information will provide insight and structure for your company. It helps you determine where to focus your time, guide product development, and helps align marketing and sales teams.
HubSpot has a great persona tool called Make My Persona if you're interested in getting started with this right away!
2. Content strategy
Did you know search engines now organize by topics rather than keywords?
Rather than focusing on keywords it is essential that you "own" the topics that matter to you and your customers.
By owning your topics, we mean being the go-to resource for questions, searches, and social posts around the topic discussed.
When you use a tool like HubSpot's content tools to create clusters of web pages and blog post content around each of your core topics, that translates into better search rankings and more, higher quality website traffic.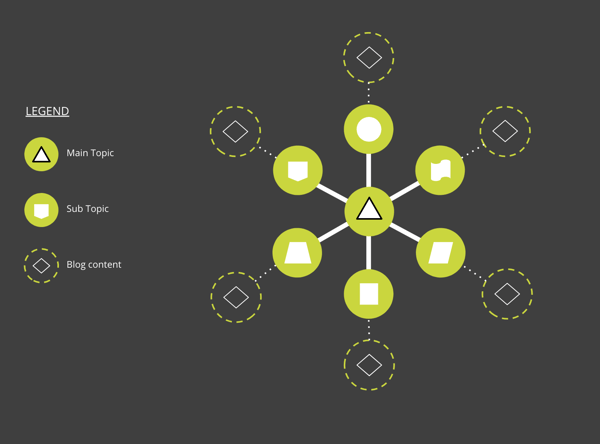 3. Social engagement
With 30% of millennials saying they engage with a brand on social at least once a month, your strategy can't be only about existence.
Brands must be fully invested in their social media marketing strategies and focus on engagement.
Establish your most important metrics
Post Reach: Post reach is the number of unique users who saw your post.
Clicks: This is the amount of clicks on your content, company name or logo.
Engagement: The total number of social interactions divided by number of impressions.
Hashtag performance: This is the measurement of how users reacted to your content, brand or hashtag.
Organic and paid likes: For channels like Facebook, organic engagement is much harder to gain traction, which is why many brands turn to Facebook Ads.
4. Nurturing automation
Lead nurturing is a lot more than just email marketing workflows that start after a lead's first conversion.
Nurturing spans different timeframes, lifecycle stages, and marketing channels.
Putting together a playbook that utilizes your content and knowledge of your personas will help you most effectively reach the right people at the right time to move them down the sales funnel.
Here are three categories of lead nurturing:
New Lead Nurturing: nurturing a lead receives right after converting for the first time, with the goal of converting them into a marketing qualified lead (MQL)
Middle of the Funnel (MOFU) Nurturing: nurturing a lead receives based on trigger events, such as visiting the pricing page as well as internal sales reps notifications; the goal is to convert them into an opportunity (the point at which they connect with sales).
Campaign Nurturing: nurturing sequence someone receives after downloading a specific offer; there are various goals, such as increasing webinar attendance rate or converting leads into MQLs.
5. Reporting
Many businesses practicing inbound marketing have implemented automated reporting using Databox.
They see benefits far beyond saving a few hours each month, because they are given true insight into what kind of results they are bringing in.
Access to data in real-time helps inform companies of progress more easily and frequently, and it helps companies identify issues before they become problems.
With reporting in place, you have an insane amount of data at your fingertips. I admit, it can become overwhelming. That being said, as long as you know what you're looking for, the numbers won't lie!